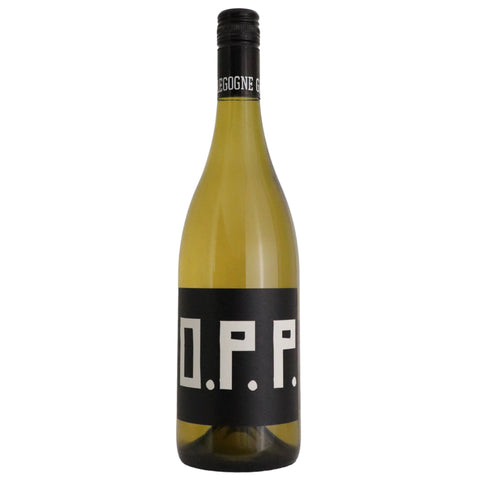 2022 Maison Noir Wines "O.P.P." Pinot Gris, Willamette Valley, Oregon, USA
Other People's Pinot Gris is like juggling apples, pears and peaches while dancing to Pharell's "Happy" - enthralling, upbeat and fresh!
ABOUT THIS WINE
The 2021 vintage we experienced a longer growing season due to the cool weather in autumn which produced complex wines with refined acidity!
ABOUT THIS PRODUCER

Maison Noir is a two-fold lifestyle project producing both a T-Shirt line and Oregon wines. Founded by sommelier André Hueston Mack in 2007, both ends of Maison Noir incorporate a trademark attitude and personal perspective on wine subculture. The wines are unique and distinctive garage wines, initially created for some of the New York's best restaurants for whom Mack was a sommelier and now available nationwide.
Despite having a successful career with Citicorp Investment Services, André Hueston Mack decided to leave his "desk job" to pursue his passion for wine. While working as a sommelier in San Antonio, Mack discovered the joys of introducing guests to the little known vineyards that first attracted him to the business and "the instant gratification of a guest's reaction." While still in Texas, Mack was awarded the prestigious title of Best Young Sommelier in America by the highly regarded Chaine des Rotisseurs. This recognition propelled him into the opportunity to work as a sommelier at Thomas Keller's world-renowned The French Laundry in Yountville, California. Mack went on to accept the position of Head Sommelier at Keller's equally famed Per Se in New York City, where he managed a 1800 selection award-winning wine list and consulted with Chef Keller on menu and pairing development regularly. Winemaking has always been a dream of his and came to fruition when he set up shop under the moniker of Maison Noir Wines. Throughout his career Mack has forged unique relationships with luminary growers and winemakers from around the planet. It is with this prestigious group that Mack currently creates his wines.
Mack has been featured in major publications, such as Food and Wine, Wine & Spirits Magazine, The New York Times, Women's Health, Ebony, and Wall Street Journal. Mr. Mack was honored in 2007 with The Network Journal's 40-Under-Forty Achievement Award for his outstanding contributions to business. Mack is a zealous wine educator who has been invited to host seminars as well as conduct panel discussions at numerous esteemed food and wine events. He enjoys sharing his fondness of wine with others.