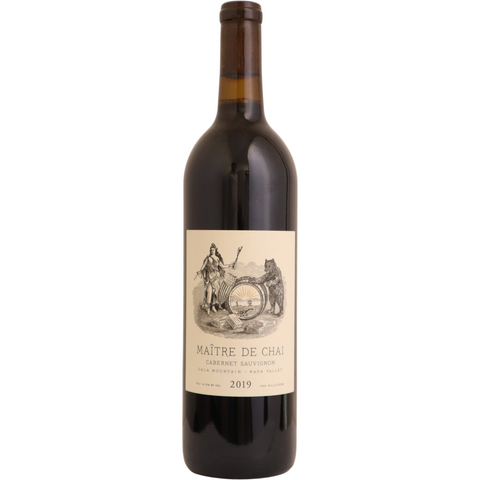 2020 Maître de Chai "Gala Mountain" Cabernet Sauvignon, Napa Valley, California, USA
This is a really beautifully deep and saturated palate with a firm multi-dimensional tannin with fruit density and a hard mineral toned and linear mid-palate. You can absolutely pull the cork now with great pleasure.
There are 8 units left in stock.
ABOUT THIS WINE
When Marty and Alex first walked into this vineyard, they knew they HAD to work with this fruit even though working with Cabernet was never in the plan. Planted in 1992 on rocky volcanic bedrock on the slopes of Mt. George, about 1000ft above the floor of the Napa Valley—this is just high enough to get constant breezes from the San Pablo Bay. Converted to biodynamic farming from organic in 2018, this farmed by hand. A beautifully unique example of old school, "pre-prohibition" style mountain Cabernet.
The tannin hits up front at first, which alongside the volcanic terroir has us thinking of Etna, then continues up the side with fruit density like in Tuscany and finishes with a hard mineral toned and linear mid-palate. This is savage mountain wine that delivers and you can absolutely pull the cork now with great pleasure.

ABOUT THIS PRODUCER
Maître de Chai translates to keeper of the cellar, or the person responsible for the development and aging of wine. By extension, the humble cellar master is the person responsible for the management of the winery.
Established in 2012, Maître de Chai is the personal project of Marty Winters and Alex Pitts. Together we look to make wines of high quality in a way that best showcases the sense of place where the grapes are grown and the personality of the vineyard. From the ground to the bottle, the character of the wine is the focus of our endeavor. We source grapes from unique and distinct single vineyards that are impeccably farmed here in California.
As our name implies, we care for the wines in the cellar. We defer to nature, limiting our intervention. We taste and we wait, allowing the wines to develop and speak for the places in which they are rooted.