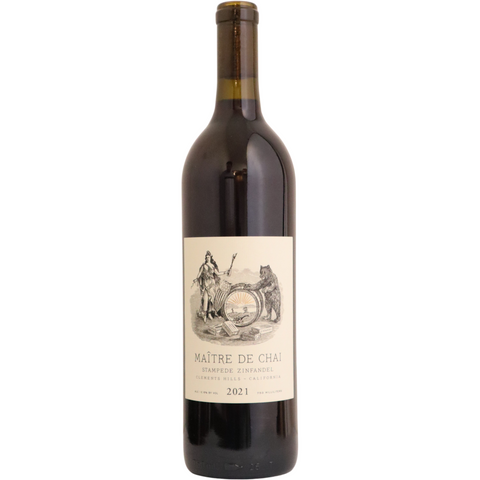 2021 Maître de Chai Stampede Vineyard, Zinfandel, Clements Hills, California, USA
The wine is a classic Zinfandel mix of fresh, ripe, and also dried red plum and raspberry. The tannins are present and driving, but not aggressive, well balanced by its fresh acidity, and a peppery finish.
ABOUT THIS WINE

In 1942, the first Clements Stampede and Horseshow was held. It was a purely non-professional round up and it drew a crowd of 1,500. Right next door to this old rodeo grounds is the Stampede Vineyard.
Planted in the 1940s, the Stampede Vineyard is an own-rooted Zinfandel planting in the toe-hills of the Sierra Nevada mountains within Lodi's Clements Hills AVA. With soils composed of decomposed granite, the Stampede Vineyard lies on a parcel that overlooks an old riverbed on one side, and the Clements Stampede rodeo grounds on the other. Jeff and John Perlegos impeccably farm the vineyard, and we have Chris Cottrell and Morgan Twain-Peterson of Bedrock Wine Co. to thank for introducing us to the vineyard and the Perlegos Family.

The model for the wine we have produced from this vineyard is an ode to the style of Paul Draper of Ridge Vineyards—one of the most influential wineries in California's history. The balance and finesse Paul has been known to employ on the field blends and old vine plantings for Ridge throughout the years has been the leading inspiration for this wine. The wine is fermented with its native yeasts in a mix of open top, whole cluster and barrel fermentations. The wine aged in neutral cask for 11 months. Three puncheons and 12 barrels produced.

ABOUT THIS PRODUCER
Maître de Chai translates to keeper of the cellar, or the person responsible for the development and aging of wine. By extension, the humble cellar master is the person responsible for the management of the winery.
Established in 2012, Maître de Chai is the personal project of Marty Winters and Alex Pitts. Together we look to make wines of high quality in a way that best showcases the sense of place where the grapes are grown and the personality of the vineyard. From the ground to the bottle, the character of the wine is the focus of our endeavor. We source grapes from unique and distinct single vineyards that are impeccably farmed here in California.
As our name implies, we care for the wines in the cellar. We defer to nature, limiting our intervention. We taste and we wait, allowing the wines to develop and speak for the places in which they are rooted.