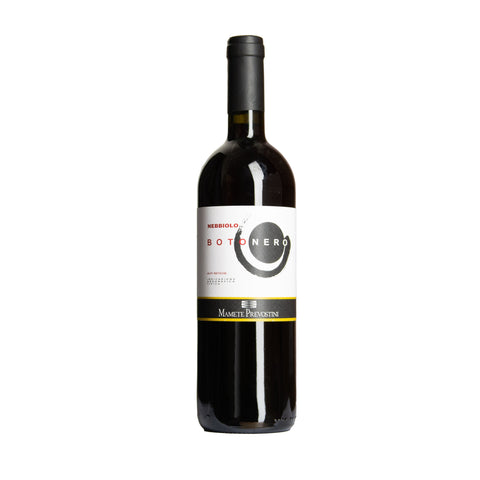 2021 Mamete Prevostini "Botonero", Nebbiolo, Lombardy, Italy
Bright ruby red color revealing fresh and fruity aromas of berries with very clean and pleasing aromas that starts with hints of cherry, currant and strawberry followed by scents of rose and violet. Fresh and dry, denoting a wine with a light but interesting body.
ABOUT THIS WINE
Berries not perfectly intact are eliminated. After a gentle de-stemming, the grapes, lightly pressed, are sent in stainless steel containers where the alcoholic fermentation takes place in 6 days, during which the must on the skins is incorporated by maceration. After the pressing, the wine, always placed in stain-less steel containers, carries out the malolactic fermentation. Here it remains for further 8 months of aging. The process is completed with a refinement in bottle.
ABOUT THIS PRODUCER
The Prevostini family have been producing wine on the terraced slopes of Valtellina since the mid-1940s. The family had long owned an historic restaurant in Sondrio at the gateway to the Valtellina in far northern Italy, in the foothills of the Dolomites in Lombardy, for which they made some house wines from the local Nebbiolo (here called Chiavennasca) and reserve wines made from the famous villages of the secluded Valtellina: Sassella, Grumello and Inferno. The grandfather, Mamete, made wine from local grapes for his restaurant customers, taking advantage of crotti, the natural caves found throughout the region and which provide ideal cellar conditions. This eventually grew into a separate business, today run by winemaker and grandson Mamete Prevostini, who has become renowned for the silky, elegant Nebbioli he has been producing on his own since 1995.
They capture the perfumed, silky-textured character of Nebbiolo with great transparency, and are among the most sophisticated wines we have tasted from the region. Mamete himself is a dedicated ambassador for the region, as President of the Consorzio. He recently completed construction of a brand new cellar located in the heart of the Valtellina. The location adjacent to the vineyards is not only picturesque, but also allows the grapes to make just a quick trip from vineyard to tank during harvest. Additionally, the cellar was built to be 100% carbon neutral. A favorite of Eric Asimov of the New York Times, the wines are mentioned every year in his articles on "alternative" Nebbioli, and their Valtellina Superiore Sassella was named the number one wine in a panel convened in March of 2014, reconfirmed in a February 2016 article in which two wines were in the top ten, ahead of some very popular neighboring producers.