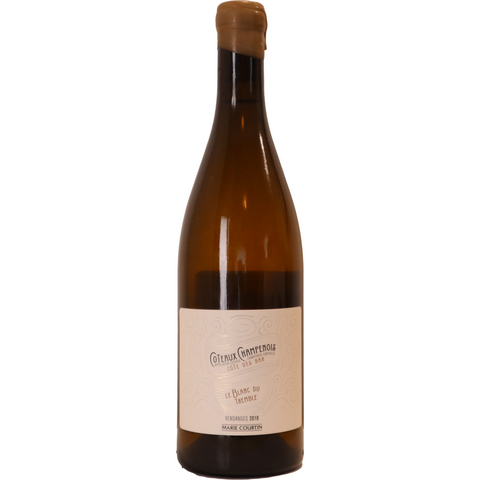 2018 Marie Courtin "Le Blanc du Tremble" NSA Amphora, Coteaux Champenois, France
A white Pinot Noir! Yes, you read that correctly! 100% Pinot Noir from Kimmeridgean Limestone aged in amphora , no sulfur added. This rare and beautiful still wine from Dominique Moreau offers a vibrant expression of the terroir of Polisot in the Aube.
There are 1 units left in stock.
ABOUT THIS WINE
Based in the tiny hamlet of Polisot in the southern Cote des Bars region of Champagne, Dominique Moreau is producing some of the most dynamic and striking wines of the area. Naming her estate after her grandmother, Marie Courtin, Dominique has set out to craft Champagnes which emphasise how her specific terroir can be expressed in a given vintage. Her wines then are single vineyard and single vintage, made with meticulously grown fruit from biodynamically-grown grapes, see no dosage, and sulfur is used sparingly or not at all.
Along with her stunning Champagnes, Dominique has started making tiny quantities of Coteaux Champenois still wine. Le Blanc du Tremble is 100% Pinot Noir from 40 year old vines that was direct pressed before being vinified in one clay and one sandstone amphora. Bottling occurred with no fining, filtration, or sulphur addition.
ABOUT THIS PRODUCER

Dominique Moreau named her estate after her grandmother, Marie Courtin, whom she describes as a "woman of the earth". With the 2005 vintage, Dominique set out to produce a series of single-vineyard, single-variety, single-vintage, zero-dosage Champagnes from biodynamically-grown grapes that are farmed and elaborated with meticulous care.
Spirituality plays an important role in her approach. Specifically, she uses pendulums to aid in evaluating the evolution of the grapes on the vine as well as the wine during élévage. She explains that the pendulum changes its natural rhythm and swing based on the energy emitted from a living being, whether person, vineyard, or wine.
Dominique's compelling Champagnes are electric and chiseled, with an intense brininess and minerality at their core.