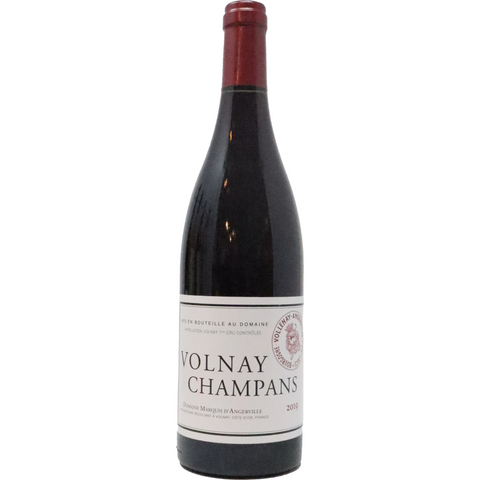 2021 Marquis D'Angerville Volnay 1er Cru "Champans", Burgundy, France
Pure and intense, with cherry, black currant and violet aromas and flavors, this red is approachable despite its youth. The solid structure is seamlessly integrated and bodes well for future development. Shows terrific harmony and expression.
ABOUT THIS WINE

Jacques D'Angerville's non-interventionist winemaking, learned from his father, allowed these fine terroirs to be fully expressed. As he told Allen Meadows, "I want to do as little as possible to the wine. I want low yields and no signature." After complete destemming, fermentation lasted 10 to 12 days, with a 12 to 18-month élévage in largely used barrels. To extract fine tannins, the cap was kept moist by twice-daily pump overs. Such methods not only broughtout the crus' inherent nobility; they created wines of perfect balance and great aging ability.
Though amazingly consistent, his wines shone brightest in top years. Vintages like 1990, 1996, 1999 and 2002 brought an extra dimension of expressiveness, leading to some of the greatest wines of Jacques' career.

This signature cuvée from Marquis d'Angerville is one of our favorite wines from Volnay. Fruit for 'Champans' comes from a biodynamically farmed 1er Cru growing site and seriously reflects the unique place from which it comes. Elegant and sophisticated (like its winemaker), this bottle is loaded with flavors of fresh red fruit, forest floor, and crushed rocks.

ABOUT THIS WINE

The domaine started bottling its own production in the 1920s after the current Marquis' grandfather, Sem d'Angerville, stood up to the negociants' corrupt blending practices. As a result and in defiance of them, he became one of the first Burgundy domains to estate bottle their wines. Today the estate is led by Guillaume d'Angerville, farmed immaculately, and is producing some of the best wines in the entire Cote d'Or.