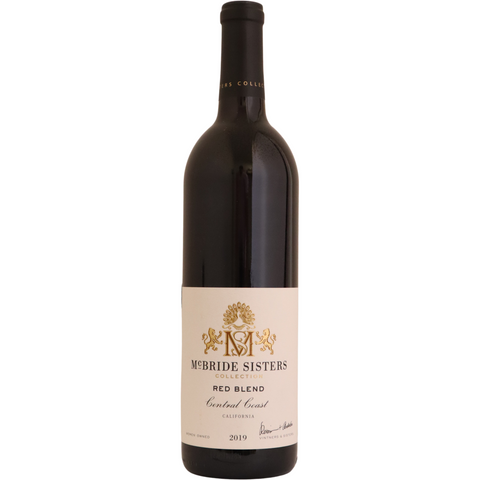 2019 McBride Sisters Red Blend, Central Coast, California, USA
Tobacco and vanilla bean notes alongside generous plum, cherry, and blackberry. Ripe and juicy with soft tannins that offer just enough velvety texture to round out the full body and complement the fruit. Peppery spice shows up on the finish.
ABOUT THIS WINE
De-stemmed clusters are fermented through completion of 8-10 days on skins before being pressed to barrel. Malolactic fermentation completed in barrels, including some new French Oak, which added gorgeous texture and aromatics. The wine matured in barrel for 18 months and was then blended,
filtered and bottled.
ABOUT THIS PRODUCER
Raised among the vines of Monterey, California and Marlborough, New Zealand, one could say that the McBride Sisters' path to winemaking was destiny at work.
Newly found sisters who had been raised across the world from one another, Robin and Andréa's love affair with wine was planted within them from an early age while growing up in two of the world's most iconic wine-growing regions.
In 2005, the sisters found themselves together in California, fueled by a shared passion for all things wine, wine-making and a desire to shake up the industry with a blend of old-world elegance and new-world finesse. It was then that the McBride Sisters Collection was born.
As the work began, so did their reality as two fierce, female and forward-thinking leaders in an industry historically defined by tradition and gender. But, like countless groundbreaking women before them, Andréa and Robin saw every obstacle as an opportunity to chart their own path rather than follow the standard formula.
Over time, McBride Sisters has grown into what is not only the largest Black-owned wine company in the United States, but one of the most inclusive, accessible, socially aware and sustainable.
These values show up not only in the wines they make but in all facets of their company. Their signature McBride Sisters Collection wines are direct reflections of the terroirs of their youth, with flavors designed for all palates. The fun, fab and eco-friendly SHE CAN collection and it's related SHE CAN Professional Development Fund, are inspired by the endless pursuit of all women who are making their dreams a reality and breaking barriers daily. And the Black Girl Magic collection, Robin and Andrea's personal ode to their culture and story, is inspired by the magic and resilience of Black women, to be enjoyed by all.
Since 2005, The McBride Sisters' mission has become clear—to transform the industry, lead by example, and cultivate community, one delicious glass of wine, at a time.