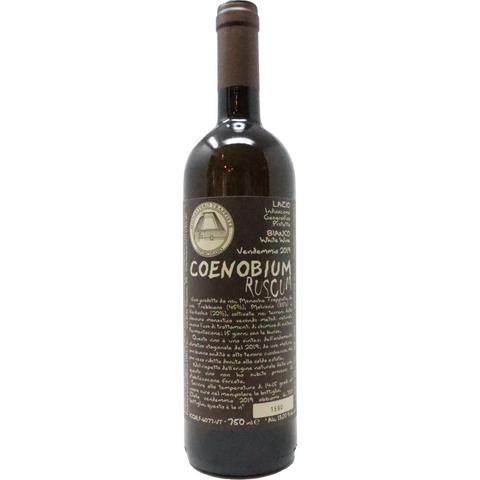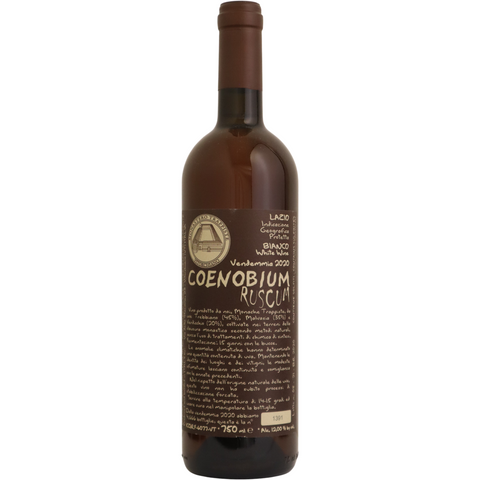 2021 Monastero Suore Cistercensi "Coenobium Ruscum", Lazio IGP, Italy
Notes of apricot jam, white pepper, grapefruit rind, and gunflint frame a concentrated, almost oily-textured palate, and a zesty acidity contributes to the wine's overarching sense of friendliness.
ABOUT THIS WINE
Made from a blend of Trebbiano, Malvasia, and Verdicchio, Coenobium Ruscum is an "orange" wine, with the pressed juice given extended skin contact, in this case, 15 days or more. An alternate lens into the nuns' terroir, Ruscum comes from the same vineyards and the same harvest as Coenobium, but its juice spends in excess of two weeks in contact with the skins. If Coenobium is a wine of autumn, then Ruscum is its winter sibling—always richer and more substantial.
ABOUT THIS PRODUCER
Cistercian nuns have been organically farming their five hectares of vines in Vitorchiano, Lazio, since the early nineties, but it wasn't until Bea began advising them in the early 2000's that their wines gained a larger audience.
Fate can have lovely consequences. Giampiero Bea made the acquaintance of the Sisters of the Cistercian order living and working at their monastery in Vitorchiano, ninety minutes or so north of Rome in the Lazio district. Here at this quiet religious outpost eighty women of this religious order work vineyards and orchards and gardens organically.
Today, a ravenous US audience eagerly awaits each new release of "the nun wine." Even before Giampiero began helping them gently refine their approach and commercialize their wines—only to the US and Japan, it should be noted—he was struck by the frankness of a white wine produced with almost no technology. In a region rife with highly controlled, highly sulfured concoctions, here was a wine of real character, an unadorned expression of healthy grapes grown in a fascinating volcanic-soiled terroir. Each time we visit with the sisters, we are amazed by their warmth of spirit, their serene energy, and the shockingly spartan nature of their operation. The "winery" is nothing more than a toolshed packed to the gills with old steel tanks, fiberglass containers of various sizes, and glass demijohns tucked here and there—proving yet again that it takes the barest minimum to produce a wine of character and truth.