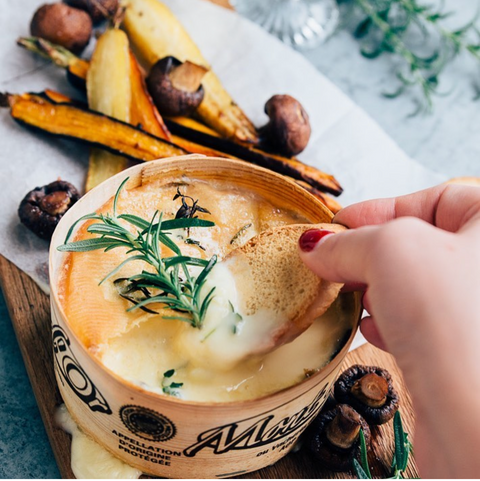 Mont D'Or, Cow's Milk, Jura, France 12.5oz
This is Perrine's favorite winter snack! Sealed in its wooden box, a smooth, creamy and slightly runny Mont d'Or makes winter mealtimes a real delight. See the baking recipe below!
ABOUT THIS PRODUCT
Its story is closely linked to that of Comté, another of Jura's iconic cheeses. Indeed, when the cows' yield decreased in winter, the farmers didn't have enough milk to make the enormous wheels of Comté and had to find an alternative. They came up with a smaller cheese requiring less milk... and Mont d'Or was born!

Ever since, this 100% Jura product has continued to melt our hearts... Even Louis XV was mad about it!
BAKING RECIPE:

1. Use one whole Vacherin Mont-d'Or. Place on a sheet of aluminium or in a baking dish.

2. Pierce several slits with a fork (as you would a pastry mixture).You can also insert 1 or 2 garlic cloves into the slits.

3. Drizzle the surface of the cheese with 1/3 cup of dry white wine.

4. Place in a preheated oven at 350° and bake for 20 minutes, then 425 for 7 minutes

5. Your oven baked Vacherin Mont-d'Or is ready. Using a spoon, serve the cheese with baked potatoes.

My favorite way to enjoy Mont d'or is with a nice sliced country bread slightly grilled and a bottle of white Chablis, Brunello or even a Vin Jaune!!

Santé,
Perrine