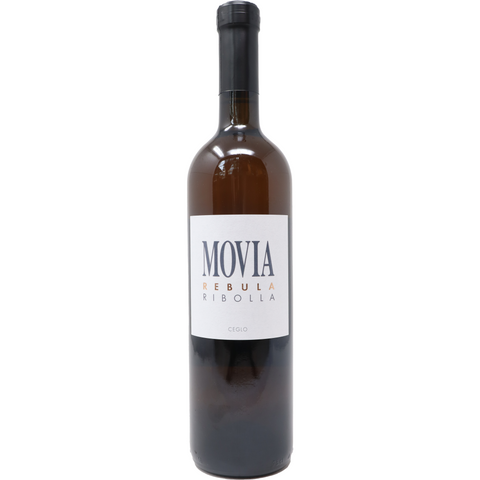 2019 Movia "Rebula" Ribolla Gaia, Goriska Brda, Slovenia
Perfumed with scents of dried flowers, figs, cherries and tea, this voluptuous Ribolla is luscious and fruity. It's dry, with a tea-leaf astringency that builds on the palate, and it finishes with a flurry of rose petals and caramelized honey flavors.

ABOUT THIS WINE
This Ribolla is from 65 yr old vines from Goriska Brda, the heart of Slovenian wine country. Primary fermentation is in stainless steel with native yeasts and then aged for 18 months in used barriques on its lees.
Rebula (Ribolla) enjoys a long tradition in the Slovene littoral, certain oenologists claiming this very region to be its origin. It has definitely been cultivated here since at least the 13th century. The vines have a high yield; ripe berries tend to fall off the grape clusters.

The name Ribolla (in Italian) stems from "ribollire", meaning to re-boil. The Bora wind in the littoral cooled the cellars before the wine must rich in sugars was able to fully ferment, stopping fermentation, only for the wine to then "re-boil" in the spring.
This is a homage to Ribolla, the oldest variety in Brda. It is excellent to approach now, but will be great in next decade until 2025.
ABOUT THE PRODUCER

Year zero for the Movia estate, as some would say, dates back to Anno Domini 1820 when the family's daughter married Mr Kristančič. Ever since the estate has been cultivating grapevines, alongside traditional fruit production so characteristic of the Brda region, with increasing success and ingenuity.
Nevertheless, they did not forget Nature's bequest: be genuine, respect and do not stand in its way. That is why Movia is more than merely a brand. It is nature's agent in your wine glass, in you.
The Movia estate has existed since 1700 and has been in the hands of the Kristančič family since 1820 following a wedding. The estate covers 18 hectares of land, half of which lie on the Italian side of the Collio.
After World War II the vineyards remained in the family's hands, allowing the continuation of this tradition in the Brda. Our wine's quality allowed the Kristančič family to become exclusive suppliers of wine for state protocol events in the former SFR Yugoslavia in 1958. In keeping with the family's decades of winemaking endeavor, Aleš honed his skills in Bordeaux and in Burgundy, returning back home with the idea of a completely different concept of wine production, enriched with new knowledge of modern winemaking and marketing concepts. It was on the basis of these new ideas that the historical breakthrough of Slovenian wines began.
The Movia brand is among the most important and most frequently awarded wines in South-Eastern Europe.
One fifth of the Kristančič family's annual production is sold domestically, while all of their remaining product is sold to world markets.