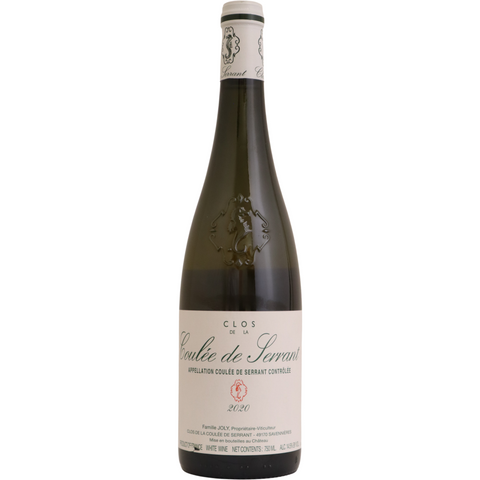 2021 Nicolas Joly Savennieres "Clos de la Coulée de Serrant", Loire Valley, France
Considered one of the greatest dry white wines in France, the Clos de la Coulée de Serrant has its own AOC and is entirely owned by the Joly family. A remarkable expression of the land, this Chenin Blanc is produced from vineyards aging 40 to 50 years-old.
There are 20 units left in stock.
ABOUT THIS WINE

With steep slopes and southern exposure, the soil is composed of shale outcroppings (schist) interspersed with quartz. The site on which the vines are planted has remained under vine since 1130. Unparalleled in intensity and complexity, the energy of the property is bottled in this iconic and limited offering that will develop for years to come.
ABOUT THIS PRODUCER

Famille Joly is widely known as one of the greatest biodynamic wine producers in France, embodying the intersection of well-respected history and refined technique. The estate is owned by the Joly family, led by Nicolas Joly, and aims to express the natural balance and beauty of the Loire Valley Chenin Blanc vineyards with respect and minimal intervention. Coulée de Serrant, the family monopole, anchors the estate, and recently celebrated its 890th harvest. The three vineyards, each of which is used for a single vineyard wine, are located southwest of Angers, and are farmed entirely biodynamically. Joly's pursuit is to emphasize each unique facet of these sites, from the age, health and typicity of the soil, to the vine's orientation and the micro-climate that surrounds them. Famille Joly wines are created to depict the balance of nature and its energy.