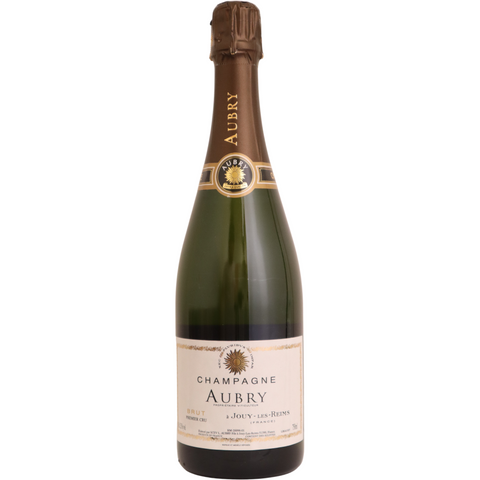 NV Champagne Aubry et Fils Brut, Champagne, France
The aromas comes off immediately with whole grain bread, red fruit, pears, apples, honey, and minerals. The mouthfeel is quite balanced, elegant, round, and perfect when you're drinking Champagne all night!
ABOUT THIS WINE
The blend is 30% Pinot Meunier, 30% Chardonnay, 35% Pinot Noir, 5% Arbanne, Petit Meslier and Fromenteau. The assemblage is 50% 2018 base, 50% perpetual reserve going back to 1998. The fruit is harvested from Jouy-lès-Reims 1er Cru, Villedommange 1er Cru, Pargny-lès-Reims 1er Cru, and Coulommes-la-Montagne 1er Cru The wine went through Malolactic fermentation and was aged in stainless steel with a small part of Chardonnay in used barrique.
ABOUT THIS PRODUCER
Philippe Aubry works with his brother Pierre and brother-in-law Noël Poret and has been trying to give expression to Champagne's indigenous varieties such as Arbanne and Petit Meslier, as well as Pinot Gris (the local name is Fromenteau) and Pinot Blanc.
One of the most original estates in Champagne, Aubry Fils is located in the village of Jouy-lès-Reims, in the western sector of the Montagne de Reims. Of the estate's 15 hectares of vines, 12 lie in Jouy and the nearby villages of Pargny-lès-Reims, Villedommange and Coulommes-la-Montagne, all of which are classified as premier cru; the other three hectares are located elsewhere and are sold off to the négoce.
Proprietors Pierre and Philippe Aubry are twin brothers, although after a few visits it's easy to tell them apart: Pierre says very little, and always seems to have a lit cigarette; while Philippe (pictured) is garrulous and inquisitive, as interested in what you have to say about the wines as he is in showing them to you. In fact, the Aubrys have a little tasting notebook that they pull out every time they host visitors, and Philippe will ask you to describe all of the flavor associations that you find in the wines and fastidiously write them down.