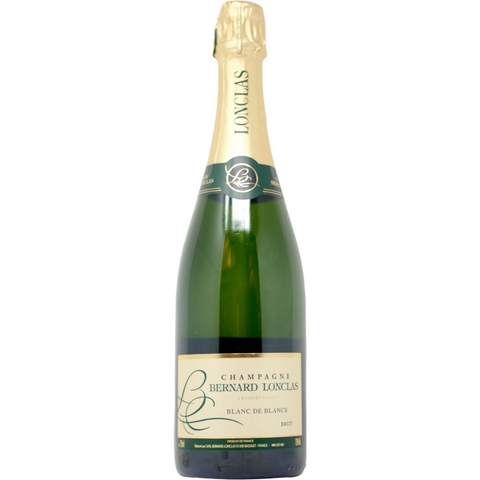 NV Bernard Lonclas, Blanc de Blancs Brut, Champagne, France
Creamy and mineral, with notes of white flowers, citrus fruit and peaches. Everything about this Champagne is well-balanced, lively and fruity. All the characteristics of a high quality Champagne without the price tag. Pop open a bottle with friends.

There are 8 units left in stock.
ABOUT THIS WINE:
The traditional wine of our Champagne House, made exclusively with 100% Chardonnay. Dosage of sugar: 10g/l.
ABOUT THIS PRODUCER:
The Maison Lonclas was founded by Bernard Lonclas in 1976, and is set in the heart of the typical village of Bassuet surrounded by slopes whose precious soil is perfect for growing Chardonnay grapes. With the help of his daughter Aurélie, Bernard Lonclas, a man with a passion for the earth and wine, distinguishes himself by rigorously selecting his grapes during harvest-time as well as carefully choosing his different batches. They grow the three Champagne grape varieties – Chardonnay, Pinot Noir and Pinot Meunier.

This entrepreneurial spirit and the passion and attachment bringing together enthusiasm, modernity and respect for tradition have made the Lonclas brand one of the Champagne region's benchmarks. Vinification is a major art in this family-run business. Traditional know-how is unashamedly combined with modern technology. Avant-garde equipment is used for pressing and in the thermo-regulated stainless steel fermentation vats.

Once a year, the wines are skillfully blended in an almost ritualistic fashion by Aurélie, Bernard and other members of the team. Each of them expresses their tastes, sensations and emotions to attain the subtlety and originality that make the Bernard Lonclas style unique.