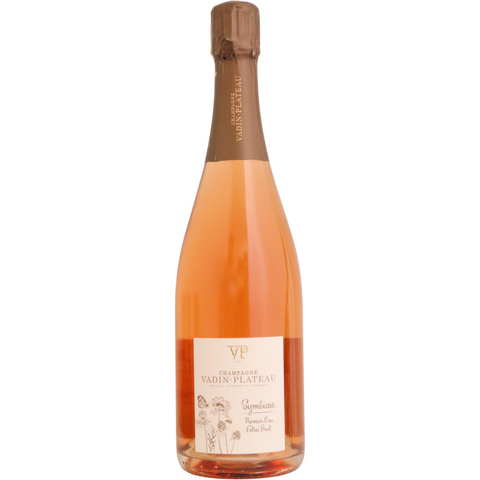 NV Vadin-Plateau "Symbiose" 1er cru Extra Brut Rosé, Champagne, France
Nose of raspberries, strawberries and sweet fruit. Crisp, lively and refreshing on the palate with a hint of cherry. it goes particularly well with white meat, poultry or fish.
There are 8 units left in stock.
ABOUT THIS WINE
40% Chardonnay, 30% Pinot Noir, 22% Meunier, and 8% Cumières Rouge. Cumières Rouge is a rare still red wine made only from Meunier grapes grown in the village of Cumières within the heart of the Marne region of Champagne. The grapes harvested for this rosé come only from vineyards located in three villages classified as Premiers Crus: Hautvillers, Cumières and Champillon. less than 2g/l of dosage
ABOUT THIS PRODUCER

Champagne Vadin-Plateau is true grower champagne. It is a family enterprise located in the heart of the Marne Valley, in the premier cru village of Cumières (near Épernay). Joseph Plateau founded Champagne Vadin-Plateau (first called Maison Plateau) in 1785, making Vadin-Plateau one of the oldest champagne producers. A passion for wine and its cultivation has been transmitted from generation to generation; today, over two centuries later, it continues with Yann Vadin.Yann Vadin is the 9th generation to grow grapes on his family's seven hectares of vineyards. centered around the terroirs of five neighboring villages: Ay, Damery, Champillon, Hautvillers, and the family's hometown Cumières, where the winery is located. Yann always envisioned taking over the family domaine. After training in the lycée viticole in Avize, and obtaining work experience in Bordeaux, Burgundy, and Australia, he returned to the domaine in 2012.

Immediately, he began the conversion to organic viticulture, encouraged by a father who had stopped using herbicides twenty years prior, and who also had the good sense to allow his son free reign in the winemaking process from his first harvest. Yann crafts wines that are both typical of Champagne and highly personal. His first cuvée, aptly named Renaissance, was a 100% Pinot Meunier, the emblematic grape of Cumières. The following year, Yann asked his father, grandfather, and himself to each select their favorite terroir at the domaine. Fortunately, they chose three different parcels, and from these favorite spots they selected three different grape varieties, each planted with a different grape variety.