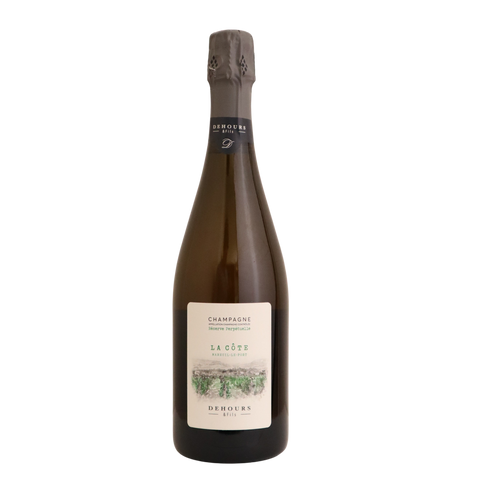 NV Dehours Lieu Dit "La Côte en Bosses" Extra-Brut, Champagne, France
The bouquet is deep and vibrant with notes of apple, pear, hazelnut, and buttery notes from the barrel fermentation, a complex base of soil tones and a nice top note of brioche. On the palate the wine is deep, full-bodied, crisp and complex, with great concentration at the core, impeccable focus and balance, elegant mousse and superb complexity on the long, zesty and classy finish.
ABOUT THIS WINE
This single vineyard from Mareuil-le-Port, Vallée de la Marne called "Côte en Bosses" is deep and vibrant, offering up beautiful complexity.
The "Côte en Bosses" is an old vine blend of chardonnay, pinot noir and pinot meunier. The story has it that once in the past, some dead meunier vines were mistakenly replaced by another variety. Today, having the three varieties together is part of the identity of this plot. When only one grape variety is planted in a particular plot then the underlying terroir of that plot is masked by the inherent characteristics of that grape. By having multiple varieties of grape we allow the terroir full freedom of expression. The wine goes through full malo with wild yeast and aged for six years on the lees in 228L barrels. Then finished with a dosage of two grams per liter then clarified by natural settling, without filtration or fining. The bottling date and Disgorgement dates are printed on our back labels.
ABOUT THIS PRODUCER

Dehours was founded by Jérôme's grandfather Ludovic in 1930. It was Jérôme's father Robert who developed the estate and began a new activity of trading in grapes. Jérôme knew that he wanted to be a grower, studying first in Beaune and then at the viticultural school in Avize. Tragically, his father Robert passed away suddenly at the age of 50, in 1987. Jérôme was just 21 years old and was not ready to take on the responsibility of the domaine.

Jérôme Dehours farms 42 different vineyards in three distinct villages on the southern side of the Marne River. Jérôme's 14.5 hectares are split between the villages of Mareuil-la-Port, Oeuilly, Cerseuil and Troissy, in this quiet corner of the Marne. This area is just south of the Marne river at Châtillon-sur-Marne and Cuisles, where Cédric Moussé produces his exquisite wines. This area, the Vallée de Flagot, is named for the small river which has carved out a winding valley called Le Flagot, to meet the Marne River.