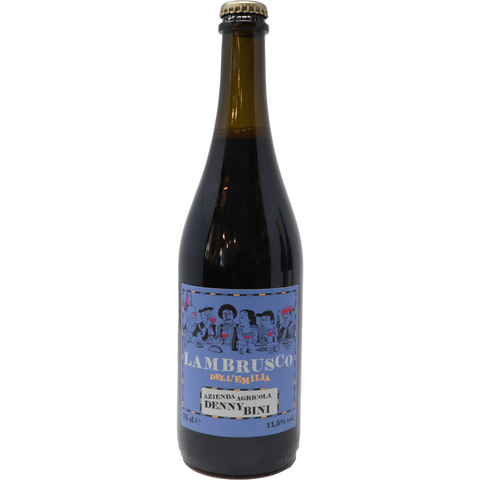 NV Denny Bini Lambrusco Dell'Emilia, Emilia Romagna, Italy
This super-dark, brambly, natural Lambrusco is the stuff of the old country. With dark, dusty tannins, berry flavors, and vibrant acidity, this earns its place on the dinner table with ease.
ABOUT THIS WINE
Lambrusco and conviviality go hand in hand, and Denny Bini's red fizz has been a favorite of ours for so many get-togethers that we often informally call it ​festa,​ or party. This is a classic Emilian Lambrusco, with a more depth to the fruit, since Denny works so carefully in the vineyard: sweet-sour berries, with that classic Emilian bitter note on the finish.
Lambrusco Marani 30%, Lambrusco Salamino 30%, Lambrusco Maestri 20%, Lambrusco Grasparossa 10%, Ancellotta 10%. Alcoholic fermentation for 10 days without temperature control, with 5 to 6 days on the skins. Secondary fermentation for 1 month in autoclave.
ABOUT THIS PRODUCER
Denny Bini is one of the humble heroes of this renaissance-revolution. He makes 6000 bottles per year from a single hectare of organically-farmed vineyards. Ponente 270 is the sparkling red and is mostly Grasparossa. Rosa dei Venti is the sparkling rosato (Grasparossa and Malbo Gentile). Levante 90 is the sparkling white wine, made from Malvasia. All three are bottle-fermented. Denny also makes our FUSO21 Lambrusco dell'Emilia (a.k.a. the Festa! Label) from practicing organic vineyards from family and friends.
Denny makes two Lambrusco: Spuma is his bottle-fermented metodo ancestral made from the geeky high-acid Sorbara grape, and an everyday drinking sparkling red Lambrusco from Emilia, that' become affectionally and unofficially known as the 'Festa' or 'Party' label, owing to the big ol' table of various types of people enjoying a raucous meal, and to the fact that it's delicious, a touch bitter, and goes down easy if you don't overthink it (kinda like most family gatherings).