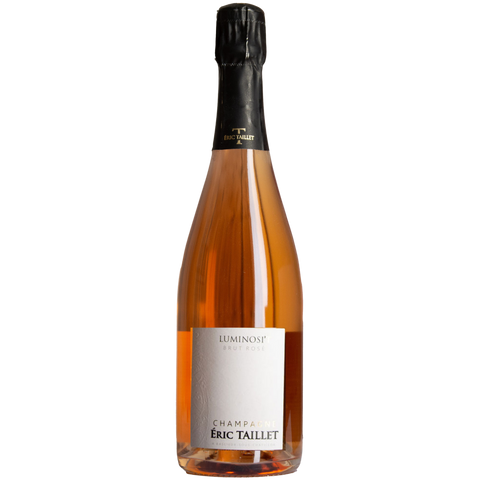 NV Éric Taillet "Luminosi'T" Brut Rosé, Champagne, France
Brilliant light pink color, the nose is dominated by aromas of red fruits, while the mouth is of great freshness and elegance. A gorgeous Champagne with beautiful elegance.
ABOUT THIS WINE
The Champagne Rosé Luminous'T by Eric Taillet is composed of 92% Meunier and 8% Pinot Noir (vin rouge / red wine) originating from the terroirs in Vallée de la Marne near the domain in Basileux-sous-Châtillon. After the traditional pressing and fermentation barrels and vats, this cuvée ages in bottle and then is doesed with 6 g/l of liqueur d'expedition making it a brut.
ABOUT THIS PRODUCER
Nestled in the heart of the Marne Valley, the Taillet house marketed its first bottles in 1961.
Today managed by Eric TAILLET, the 4th generation, it asserts itself more than ever in its philosophy of working the vines while respecting the environment and in harmony with nature.
​From now on, for Eric Taillet, creator of emotions in Champagne, a single priority: exceptional harvests for an exceptional champagne.
A perfectionist, who wishes to preserve in each of his champagnes, a typicity and a style that is recognized at the first sip.