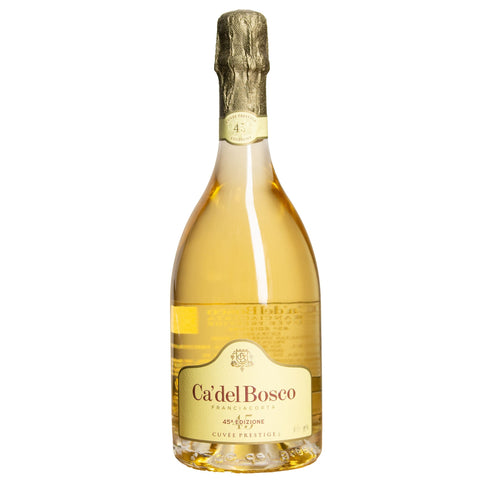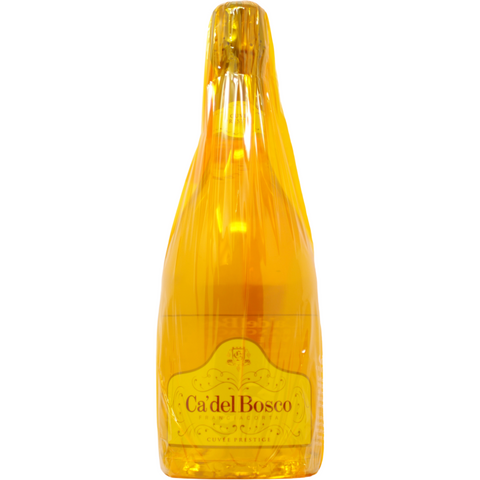 NV Ca'del Bosco "Cuvee Prestige" Franciacorta, Lombardy, Italy
Brilliant gold. Complex nose combining fresh fruits (apple, pear), linden and notes of acacia honey and green tea. Wonderful exuberance on the palate that is firm, mineral, focused and ends on a dried almond note.
ABOUT THIS WINE
The base wines that go into Cuvée Prestige are the fruit of accurate cluster selection and expert vinification, carried out in line with the Ca' del Bosco Method. The grapes are hand-picked and placed in small crates, graded and chilled. Every bunch is selected by trained eyes and hands, just before they go through our exclusive "berry spa", a special whirlpool-like wash for grape bunches, consisting of three soaking tanks, followed by thorough drying in a special tunnel. After pressing in an oxygen-free press, all the musts of the base wines ferment in temperature-controlled stainless steel tanks, where they remain until the following month of March. The wines take seven months to settle, mature and express the very best characteristics of their vineyards of origin. The wines are then carefully assembled in the "magical ritual" that creates the cuvée. Only after aging on the lees for at least 2 years will this Franciacorta express all its richness and identity. Disgorgement is carried out in an oxygen-free environment, using a proprietary process designed and patented by Ca' del Bosco. This procedure prevents oxidative shocks and makes it unnecessary to add sulfites, making our Franciacortas purer, more appealing and longer lived.
170 plots planted with Chardonnay, average age: 28 years, in the Municipalities of Erbusco, Adro, Cazzago San Martino, Corte Franca, Iseo and Passirano. 5 plots planted with Pinot Bianco, average age: 29 years, in the Municipality of Passirano. 43 plots planted with Pinot Nero, average age: 19 years, in the Municipalities of Erbusco, Provaglio d'Iseo and Passirano. 68% vintage wines 2020 29% reserve wines 2019 3% reserve wines 2018. Only the finest Chardonnay (75%), Pinot Nero (15%) and Pinot Bianco (10%) grapes from 134 vineyards, vinified separately and then skillfully blended. An elegant wine.

ABOUT THIS PRODUCER
Ca' del Bosco operates more than 250 hectares of vineyards according to the protocol of certified organic viticulture. An initiative that began in 1989, as an experiment, and came to completion in the past few years. The vineyards are spread over 10 townships in Franciacorta, and the average age of the vines is over 20 years. The Ca'del Bosco method means paying attention to every little detail. During the wine harvest, every step is crucial. The bunches of grapes are moved in small crates to avoid any squashing.
After they are picked by hand, they are cooled in a refrigerated cell and cold-pressed.
All the bunches are carefully hand selected: only healthy grapes can be made into great wine. After the whole bunches are pressed, the must is divided into three grades. The highest quality musts are vinified by single vineyards, in order to allow them to fully express their terroir.