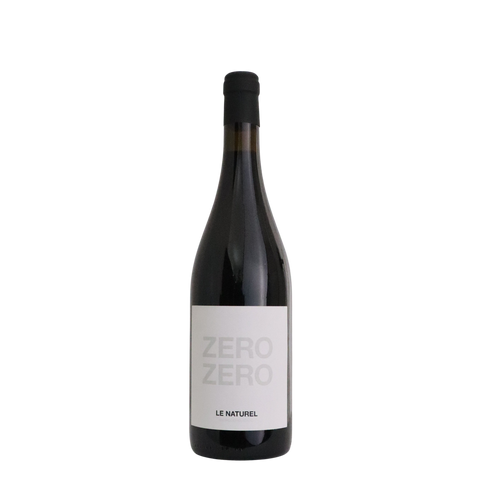 NV Bodegas Aroa "Le Naturel Zero Zero" Tinto, Navarra, Spain Non-Alcoholic
Light cherry red color. The aromas of red and fresh fruits stand out, light notes of compote and liqueur cherries, even some spicy touches. A very refreshing and very pleasant non-alcoholic wine, especially due to its good acidity providing the freshness and liveliness so characteristic of the Garnacha variety.
ABOUT THIS WINE
Zero Zero Le Naturel, a non-alcoholic drink bringing with it all the sensations and enjoyment of a glass of good wine. To obtain a dealcoholized wine, the wine is first made in the usual way. In the case of Le Naturel, it is a very artisan process, witha philosophy of minimal intervention. Once we have the wine, the alcohol is removed using a process that respects the aromas and flavors of the wine. Although the alcohol is eliminated, Zero Zero Le Naturel preserves the polyphenols and antioxidants, conventional wines most beneficial health components. Fewer calories are also consumed, as alcohol is the component that contributes most calories to wine. Our R+D+i department has been researching for years to make the best dealcoholized product possible. Because our desire is for everyone who cannot (or does not want) to drink alcohol to continue toasting, tasting and enjoying a glass of white or red without the hang-ups.
ABOUT THIS PRODUCER
Organic vineyards, ancient methods and biodynamic practices, at Aroa we make organic and natural wines that are true to the privileged landscape that welcomes us. Aroa is one of just a handful wineries in Spain, and the only one in Navarra, to have received the Wineries for Climate Protection certificate. Awarded by the Spanish Wine Federation, it recognizes continuous improvement on four fronts: reduction of emissions, water management, waste reduction and energy efficiency.
The wines are crafted with as little intervention as possible, allowing the grapes, vineyard, and landscape to speak for themselves in the glass. All Aroa wines are organic and have the V-Label certificate that certifies them as suitable for consumption by vegans.