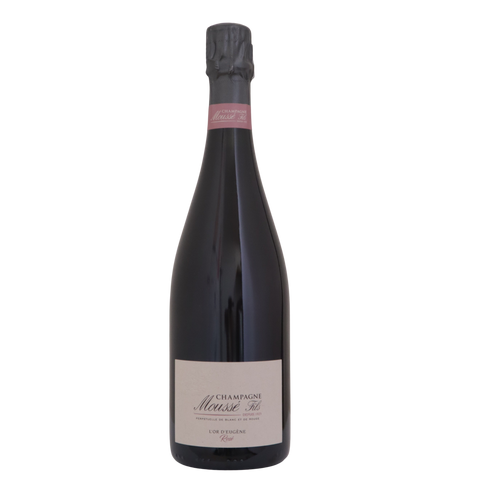 NV Moussé Fils l'Or d'Eugene "Perpetuelle Rosé de Noirs" Brut, Champagne, France
Wafting from the glass with a deep and
complex bouquet of golden orchard fruit,
honeycomb, mirabelle plum, candied peel
and fresh pastry, it's medium to full-bodied,
satiny and layered, with a rich and sapid
core of fruit, lively acids and a delicate
pinpoint mousse
ABOUT THIS WINE
A perpetual reserve is different than a solera. To make it simple, you can imagine 2 barrels. 1 full and 1 empty. You transfer half of the full one in the empty, so both are at 50%. Then, you add 50% of the new harvest in each one. You'll bottle one of the tank, and you keep the other one to star again the next year! Cedric uses this method to strike a masterful balance between the freshness of the new vintage with the complexity and depth only "old wines" can bring.
ABOUT THIS PRODUCER

Located in a small valley perpendicular to the Marne river, in the village of Cuisles, our estate has been growing a very unique Meunier on a green clay terroir since 1923.

Our vineyard is spread on 3 different villages for the most part, yet all our plots are located on the same slope, all south exposed. Everyday, we are making every effort to step aside and highlight this variety and this unique terroir.

Our ancestors have been growers from father to son for 12 generations, and winemakers for 4 generations. Today we are rethinking every step and action to limit our environmental impact. Nature is our working tool; it is our duty to look after it.

Vinification happens with the least possible intervention, and clear objectives: pure and natural Meunier, with tension.