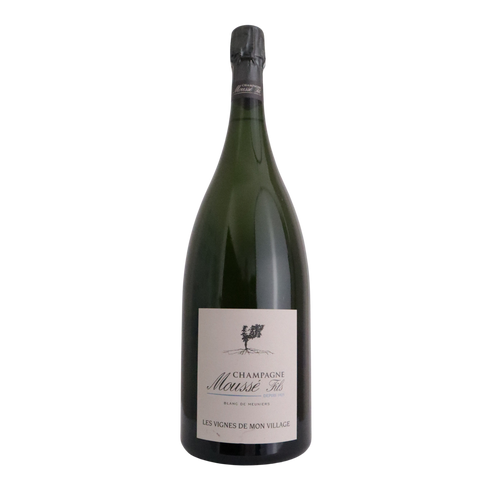 NV Moussé Fils "Les Vignes de Mon Village" Brut Nature, Champagne, France 1.5L MAG
100% Pinot Meunier and zero dosage. The ripeness of the red fruit lifts the wine on the palate. It is rugged and sharp with lots of brawn and bust. Fruit driven without being rich.
ABOUT THIS WINE
This blend of the finest vintages is made of 100% Meunier, only from Cuisles. It has the particularity to be bottled and aged with a cork.

Before we created this Brut Nature non-vintage Champagne, our vintage cuvée Special Club was the only 100% Meunier in our range. The idea behind Les Vignes de Mon Village was to create an outstanding Champagne, aged in bottles sealed with cork, that would still appeal to everyone.
It is also a tribute to Jean Marc Moussé, who adored Meunier and was the mayor of Cuisles during 25 years. Vinification includes: Micro vinification in small stainless tanks, malolactic Fermentation, filtration with earth filters, no fining, aged in cork-sealed bottles, zero Dosage: 0 g/l. Aged for 24 months.
ABOUT THIS PRODUCER

Located in a small valley perpendicular to the Marne river, in the village of Cuisles, our estate has been growing a very unique Meunier on a green clay terroir since 1923.
Our vineyard is spread on 3 different villages for the most part, yet all our plots are located on the same slope, all south exposed. Everyday, we are making every effort to step aside and highlight this variety and this unique terroir.
Our ancestors have been growers from father to son for 12 generations, and winemakers for 4 generations. Today we are rethinking every step and action to limit our environmental impact. Nature is our working tool; it is our duty to look after it.
Vinification happens with the least possible intervention, and clear objectives: pure and natural Meunier, with tension.