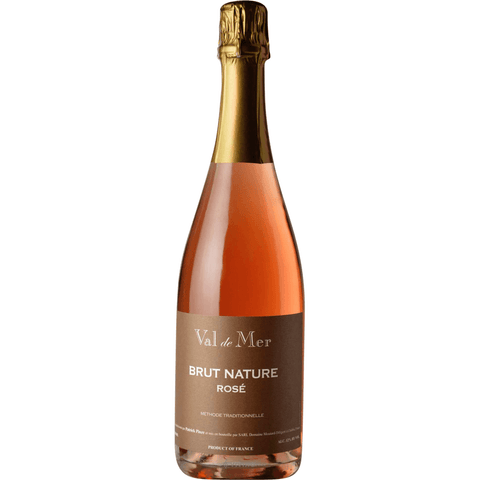 NV Patrick Piuze "Val de Mer" French Sparking Brut Nature Rosé, France - MAGNUM
The Val de Mer by Patrick Piuze Brut Nature Rosé is bright, lively, and very pink. The wine's frisky acidity and crisp finish pair it well with raw oysters, shellfish, and other delights from the sea.
Val de Mer, which loosely translates to "Valley of the Sea," is a second winery owned and produced by Patrick Piuze. Patrick has a partner in Val de Mer who hails from Champagne and no doubt has a hand in the fine sparkling wines produced under this label. The overall estate is comprised of Chardonnay and Pinot Noir from a combination of estate holdings as well as some sourced fruit. Val de Mer has given Patrick the opportunity to produce a few other wines unique to the Chablis region that he does not produce under his Patrick Piuze label, including two sparkling wines and a Bourgogne Blanc. He believes in a very "hands-off" approach to making wine. Native yeasts, long fermentations, no enzymes or nutrients are ever introduced, battonage is skipped, and sulfur is kept to a minimum. The wines all ferment and age in stainless steel, with the premier and grand crus spending time in neutral wood.
Patrick Piuze first moved to Burgundy in 2000 after running a wine bar in Montreal for two years. For his first autumn there he spent the harvest with Olivier Leflaive in Puligny-Montrachet. Shortly after, Piuze was entrusted with the vinification of Laflaive's new Chablis project and Patrick spent four years there honing his skills as a winemaker. Next, he spent a year at Verget with Jean-Marie Guffens where he developed a passion for exploring the distinct terroirs of Chablis. At this point in his career, he was earning recognition for the high quality wines he was making and after just a year at Verget, Jean-Marc Brocard recruited him to be cellar master and head wine maker. During this period, Piuze realized there was much more he was capable of achieving and made the most important decision of his life: to set out on his own and bottle under his own name. Not one to ease into things slowly, his first vintage in 2008 consisted of 20 different bottlings, all Chablis except for one.