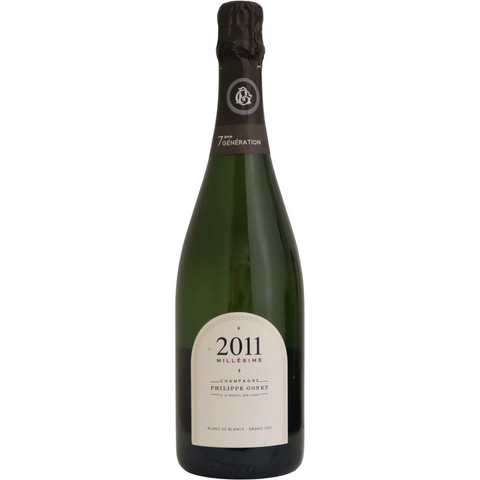 2011 Philippe Gonet Grand Cru "Millésime" Blanc de Blancs, Champagne, France
On the nose , there are toasted hazelnut aromas supported by aromas of white flowers. The powerful and fleshy palate reveals brioche and fresh butter notes completed by a strong minerality. The finish is long and shows the origin of its great terroir.
ABOUT THIS WINE
Spring was exceptionally hot and dry, resulting in an early harvest. A lack of rainfall from March to May, when the vine grows greatly, has an impact on vigour and vegetative expression. The lack of water has reduced mineralization, nitrogen assimilation and other elements provided by the soil. In many plots, this situation has resulted in a general decrease in vegetative expression. The period of water stress gives it a exceptional dimension with honourable returns.

Made from grand cru Chardonnays from different plots of the family vineyards of Mesnil-sur-Oger and Oger, this wine is made from only the best vintages. It is nuanced with silky and toasty aromas, with a well-balanced ''minerality''.
ABOUT THIS PRODUCER

Gonet is one of the most distinguished of the Champagne houses, located in the Grand Cru village of Le Mesnil-sur-Oger in the Cote des Blancs. Pierre and Chantal, brother and sister, took the reins of the seventh generation of winemaking at the ages of just 22 and 23. Their father, Philippe Gonet, had passed, and so the siblings had responsibilities thrust on their shoulders, growing closer in the process despite contrasting personalities. While they could have easily sunk, they not only were able to swim, but soared. Today, Pierre oversees winemaking and the vineyards while Chantal is the face of Gonet internationally.