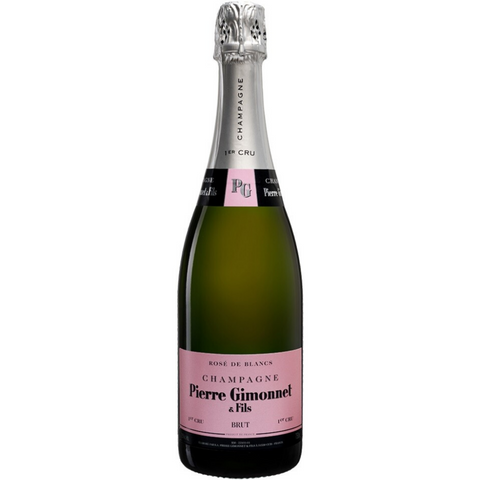 NV Pierre Gimonnet & Fils Rosé "Rosé de Blancs" Brut, Champagne, France 1.5L MAG
The NV Brut Rosé de Blancs 1er Cru opens in the glass with an inviting bouquet of crisp red fruits, licorice, dried flowers and toasted sourdough. Medium-bodied, racy and fine-boned, it's tensile and chalky, its style dominated by its Chardonnay base
ABOUT THIS WINE
The NV Brut Rosé de Blancs is incredibly distinctive. Cranberry, crushed rocks, chalk, slate and white pepper are all finely sketched. The Rosé de Blancs is mostly Chardonnay, with just a touch of still red Pinot, and it is the Chardonnay that really drives the wine's personality. Readers will find an especially nervy, taut Rosé with impeccable balance and tons of sheer appeal.
ABOUT THIS PRODUCER
Didier Gimonnet is the second generation of growers to direct this superb estate, with 28 hectares of holdings in grand and premier cru villages, predominantly in the Côte de Blancs. The winery is in the premier cru village of Cuis where Didier's family has been growing grapes since 1750. Pierre Gimonnet, Dider's Grandfather, started bottling estate champagnes in 1935. In addition to the 13.5 hectares in Cuis, Gimonnet owns 11 hectares of chardonnay vines in the grand cru villages of Cramant and Chouilly, plus another hectare in Oger and two in Vertus. Gimonnet also owns half a hectare of pinot noir, split between the grand cru of Aÿ and 1er cru of Mareuil-sur Aÿ
The high percentage of old vines at this estate sets it apart in a region suffering from a plethora of very young vineyards. Seventy percent of Gimonnet's holdings are over 30 years old, of which some forty percent are over 40 years old, with 100+ year old vines in the lieux-dits of Le Fond du Bateau, planted in 1911, and Buisson planted in 1913, both in the Grand Cru village of Cramant.