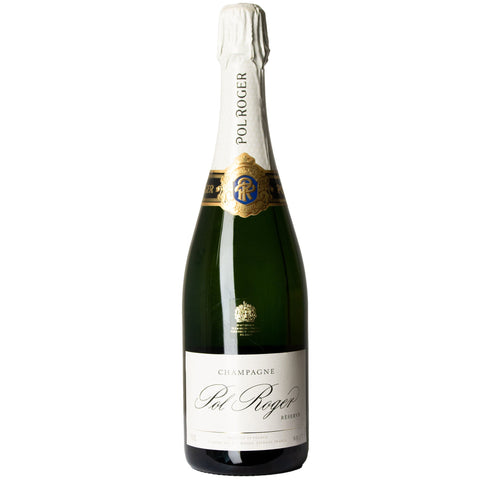 NV Pol Roger Brut Réserve, Champagne, France
Golden straw color with abundant and fine bubbles. A powerful and attractive nose, it first delivers aromas of fruit (pear, mango) and then notes of honeysuckle and white jasmine, lingering on vanilla and brioche notes. The wine has a pleasant freshness, whilst preserving some structure. On the palate, flavors of cooked fruit (quince jelly, apricot jam) happily mingle with fragrances of beeswax and acacia honey. The long-lasting aromas, composed of both fruity (candied orange peel, tangerine...) and spicy notes (cardamom, anis) is outstanding.
ABOUT THIS WINE
Pol Roger's house style Brut Réserve is one of the Champagne's most recognizable nonvintage bruts, balancing a round body with lively acidity. It is a blend in equal parts of pinot noir, meunier and chardonay from 30 different crus. 25% reserve wines are used to produce this cuvée. The Pinot Noir (bringing structure, body and power) is mainly produced from some of the best crus of the Montagne de Reims. The Meunier (ensuring freshness, roundness and fruitiness) is issued from several crus from the Vallée de la Marne and from the Epernay area. The Chardonnay (adding its aromatic complexity, finesse, elegance and lightness) comes from Epernay and (of course) some of the best crus of the Côte des Blancs. After four years of ageing in their cellars, the Brut Réserve style combines complexity, balance and distinction.
ABOUT THIS PRODUCER
In its 170 years of history, Pol Roger has carved out one of the most flattering reputations in the select circle of the leading Champagne house brands. Pol Roger was just eighteen years old when he founded his champagne house in 1849. He soon established a firm presence in the English market, receiving a Royal Warrant from Queen Victoria in 1877, and this close relationship with Great Britain has persisted to the present day. The house is currently headed by Laurent d'Harcourt, while Hubert de Billy, a great-great-grandson of Pol Roger himself is commercial director. Dominique Petit has been the chef de cave here since 1999.