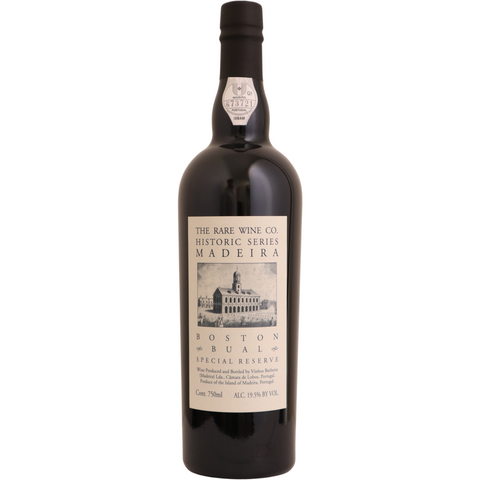 NV Rare Wine Co. Madeira "Boston" Bual, Madeira, Portugal
Wafting from the glass in a blend or orange zest, coffee, a lovely touch of toasted nuts and a gentle top note of caramel. On the palate the wine is deep, full-bodied and only moderately sweet, with a lovely core, bright, tangy acids and very fine length.
ABOUT THIS WINE
Sweeter than either Charleston Sercial or Savannah Verdelho, Boston Bual still boasts incredible balance and refreshing acidity. The hallmark of this wine is its otherworldly complexity, featuring cinnamon-clove spiciness with overtones of citrus peel and woodsmoke. There is just enough sweetness to excel as an after-dinner wine, but its long, dry finish also makes it work beautifully with food.
Port and Madeira expert Roy Hersh has written that Boston Bual "emulates some of the finest qualities of vintage Madeira ... exhibiting a light amber-tawny color and a nose of dried figs, walnuts, maple syrup, mahogany and a sense of bouillon cube; the mélange of fragrances is complex and compelling. Medium in weight initially, it develops greater heft after a few days open, with a rich and sumptuous mouthfeel."
ABOUT THIS PRODUCE

In 1998, The Rare Wine Company began a project to create a series of Madeiras unprecedented in the marketplace: moderately priced wines with the aromatic fingerprint and quintessential texture and flavors of far more expensive vintage Madeiras.
It took years of work, but in 2003, they began releasing the wines which are named in honor of American cities with strong ties to Madeira. New York Malmsey, Boston Boal, and Charleston Sercial which all eerily resemble vintage Madeiras -- thanks to the inclusion of wines ranging in age from 30 to 60 years old in the blends. Working with Vinhos Barbeito, which possesses one of the great libraries of legendary 19th century Madeiras, each wine represents a style of Madeira popular in the cities they're named after.