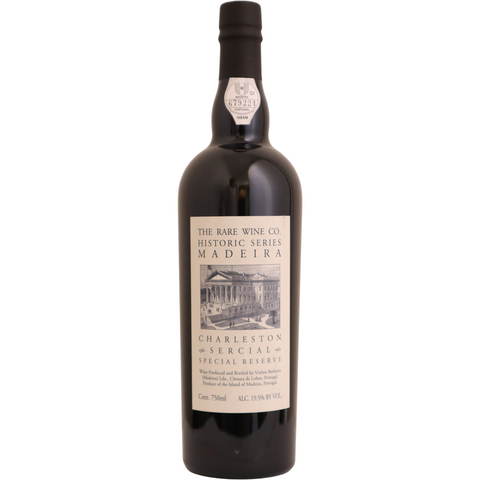 NV Rare Wine Co. Madeira "Charleston" Sercial, Madeira, Portugal
Medium amber. Gingerbread, orange zest, clove, blond tobacco and honey on the nose. Spicy citrus and poached pear flavors are lifted by zesty acidity and smoky quality on the back end. Blends sweetness and dryness smoothly, finishing with good nervy cut.
There are 2 units left in stock.
ABOUT THIS WINE
This is the driest wine in the series and a wine that has been served throughout meals in America for nearly 300 years. Chef Mario Batali won over 1000+ guests at the 2009 New York Wine Experience by boldly pairing Charleston Sercial with a wild boar dish of Wolfgang Puck's creation.
ABOUT THIS PRODUCER

In 1998, The Rare Wine Company began a project to create a series of Madeiras unprecedented in the marketplace: moderately priced wines with the aromatic fingerprint and quintessential texture and flavors of far more expensive vintage Madeiras.
It took years of work, but in 2003, they began releasing the wines which are named in honor of American cities with strong ties to Madeira. New York Malmsey, Boston Boal, and Charleston Sercial which all eerily resemble vintage Madeiras -- thanks to the inclusion of wines ranging in age from 30 to 60 years old in the blends. Working with Vinhos Barbeito, which possesses one of the great libraries of legendary 19th century Madeiras, each wine represents a style of Madeira popular in the cities they're named after.