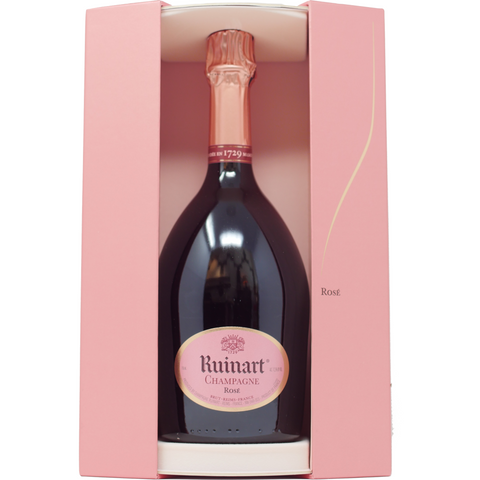 NV Ruinart, Brut Rosé, Champagne, France
The nose is fresh, offering an original palette of exotic fruits (guava, lychee), and small red fruits (raspberry, cherry, wild strawberry). On the palate, silky and fleshy, carried by aromas of pomegranate, guava and lychee & pink grapefruit.
The history of rosé from Maison Ruinart, the very first rosé to emerge, has been written since the 18th century. If more than 250 years separate us from the premises of the rosé champagne of the Maison Ruinart, excellence, a fundamental value, continues to characterize the production of this delicate wine today.
Its uniqueness is based on the unique balance of its blend of Chardonnay, the House's signature grape, and Pinot Noir vinified in red. The freshness of Chardonnay resonates with the roundness and character of Pinot Noir.
45% Chardonnay from the Côte des Blancs and the Montagne de Reims. 55% Pinot Noir from the Montagne de Reims and the Marne Valley, of which 18 to 19% are vinified in red. 20 to 25% of reserve wines from the previous 2 years