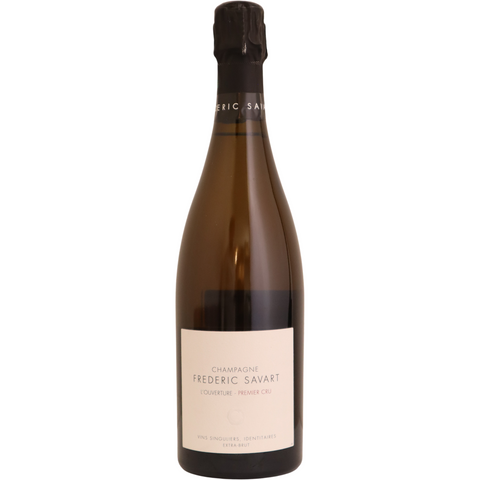 NV Frederic Savart "L'Ouverture" Blanc De Noirs 1er Cru, Extra-Brut, Champagne, France
From clay-based soils of Ecueil, all farmed organically and without pesticides. Crafted from 100% Pinot Noir, showing a gorgeous golden hue. Aromas of crisp apple and pear dominate, with a fruit-forward palate, coupled with a strong chalky minerality.
ABOUT THIS WINE

L'Ouverture is Fred Savart's entry level Champagne but it is far from one-dimensional. It is 100% Pinot Noir all from the village of Ecueil, half of which was fermented in mostly neutral barrel with the other half is fermented in stainless steel. The wine only sees partial malolactic fermentation. Fred doesn't guide the malolactic fermentation, instead it is the inclusion of reserve wine that goes through malolactic fermentation because it has gone more temperature swings.
The wine is in equal parts a blend of three successive vintages and aged under cork, not crown cap. Dosage is 7g/L.
ABOUT THIS PRODUCER
Fred Savart is a force to be reckoned with. Tasting in his cellar is as much a tour of the various terroirs of the Montagne de Reims as it is a discussion of what's new in the wine world. Fred is first and foremost a farmer but right behind that he is a bonafide wine geek. His cellar's entrance is lined with dead soldiers from all the great names and his idea of having you over for dinner is blind tasting you on things that he's really excited about at that moment.
Constantly evolving, Fred is making almost a dozen wines from just 4 hectares. In his own words, his winery is "a laboratory of terroirs and a creator of cuvées."