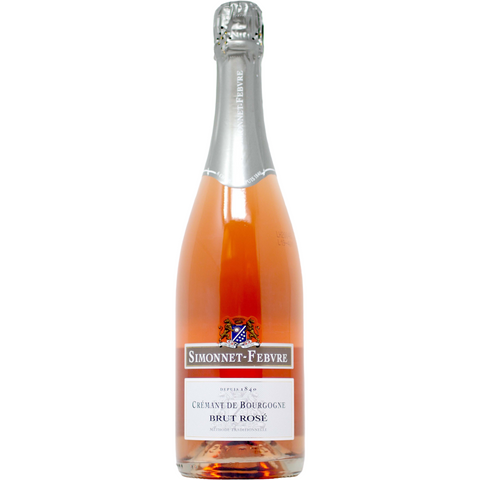 NV Simonnet-Febvre, Crémant de Bourgogne Brut Rosé, Burgundy, France
This is a fresh and vivacious style, showing powerful aromas of red fruit (raspberry, redcurrant) and showing fine bubbles and pale rosé color.
The Maison & Domaine of Simonnet-Febvre were founded in 1840 by Jean Febvre, a barrel maker by trade from the town of Montbard. In the early days, the house was known for its sparkling Chardonnays from Chablis, known today as Crémants de Bourgogne. Over the years, the Febvres acquired holdings in some of the greatest terroirs in Chablis. Today, the domaine comprises approximately 9 acres, crowned by a 2/3 acre plot in the Grand Cru vineyard of Les Preuses, with 3.5 acres of 1er Cru Mont de Milieu and 4.7 acres of communal Chablis vineyards. In 2003, Simonnet-Febvre was acquired by Maison Louis Latour. Since its purchase, the Latours have completely renovated the winemaking facilities, installing new stainless steel tanks and pneumatic presses. The vineyards have been reworked with the same sustainable vineyard practices utilized in Latour's 125 acre domain in the Côte d'Or. Maison Louis Latour also hired a talented new winemaker, Jean-Philippe Archambaud.