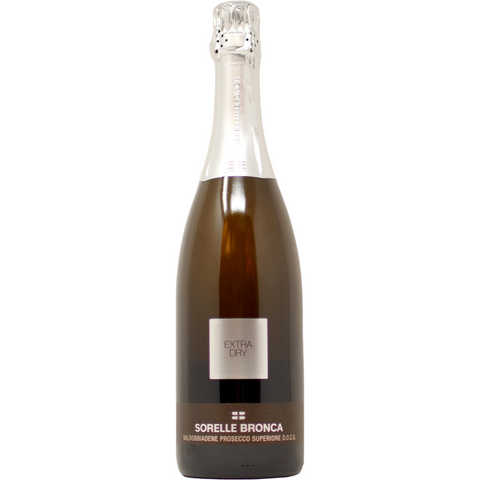 NV Sorelle Bronca Extra Dry
The well-balanced acidity and sugar level gives the wine good harmony and depth which highlights the aromatic complexity of the fragrance.
This organically grown, estate-bottled sparkling wine is made primarily of the Prosecco grape with small amounts of the traditional indigenous varieties Perera, Verdiso and Bianchetta. The 'bulk process,' a secondary fermentation in a pressurized tank rather than in the individual bottle, is used. The vinification is unusual for Prosecco; instead of two seperate fermentations, (grape juice to still wine, then still wine to sparkling wine), the Bronca Sister's Prosecco grapes are pressed and the juice is held at very low temperatures until it is ready to be made into sparkling wine (done periodically throughout the year to maintain the freshest possible stock) upon which time the must is put into a special fermenter and fermented directly to sparkling wine. This more costly single fermentation process retains more of the classic pear aroma that makes Prosecco distinctive. No sugar is added, all of the sweetness comes from the must. A number of batches are produced during the year to ensure freshness, and we import the wine frequently for the same reason. Prosecco is best drunk as fresh as possible.