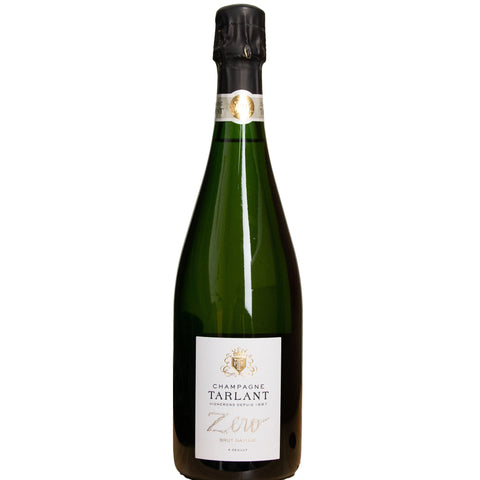 NV Tarlant "Zero" Brut Nature, Champagne, France
Bone-dry and expansive palate with fabulous range. Lemon oil, chamomile, dried flowers and apricot all open over time, gaining freshness and aromatic lift. Time in the glass brings up tons of red-fruited intensity from the Pinots. Gorgeous.
ABOUT THIS WINE
Representing 70% of the total production, "Zero" is the Tarlant's calling card and consists of a nonvintage, no-dosage wine made equal parts Pinot Noir, Meunier, and Chardonnay. For an entry-level wine, a huge amount of thought is put into its creation:

"Zero is a reflection of the four villages we work in and the goal is to express a Champagne without the external sugar masking the land's characteristics."
The organically farmed, hand-harvested fruit comes from nine hectares of estate parcels spread through four villages (Œuilly, Boursault, Celles-lès-Condé, Saint-Agnan) in the Vallée de la Marne. 63 parcels from 31 lieu-dits are each vinified individually and blended after blind tastings to create base or reserve wines according to the vintage. Starting with the 2013 base (commercialized in early 2022), Zéro will be roughly 4% Pinot Blanc, Arbane, and Petit Meslier.
ABOUT THIS PRODUCER
In 1687, Pierre Tarlant began cultivating his first vineyards in Aisne. The family stayed put for almost 100 years before moving to the village of Oeuilly in 1780. At the turn of the 20th century, Louis Tarlant took over as head vigneron. His tenure would prove instrumental to shaping the family legacy, principally due to his involvement as mayor of Oeuilly in the rarely discussed Champagne Revolution.

By the early twentieth century, it had become increasingly common for the big Champagne houses, who even then had a strong-hold on commercialisation, to bring in fruit from all over France and even different countries (the farthest being Portugal!) to vinify and sell the wine as Champagne.

When this became common knowledge amongst growers in the region, many were infuriated that such practices could be happening right under their noses. Through rigorous organisation, many villages managed to block off the points of entry of outside fruit and skillfully organize themselves to codify the Champagne region. As a result, Louis helped achieve worldwide recognition of the AOC in 1911 and contributed to establishing the AOC Champagne region in 1927.

In the aftermath of these events, Louis swore never to sell a single grape to the big houses again, making Tarlant one of the first independent estates in the region (less than 10 existed at the time). Fast forward to today, and head vigneron Benoît Tarlant is the 12th generation working the land under his family name. Benoît is the real deal: his great understanding and respect of history, tradition and nature, coupled with his experimental, forward-thinking tendencies have been the driving force of some truly next-level, terroir-centric Champagnes. With his sister Mélanie joining the family business in 2003, things are more than ever a family affair.