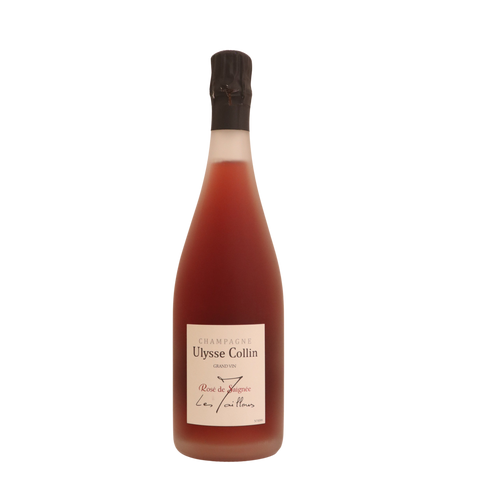 NV Ulysse Collin "Les Maillons" Rosé de Saignée, Champagne, France
Powerful, dense and explosive, not to mention totally captivating. Sweet red cherry, plum, lavender, rose petal, spice and kirsch all race out of the glass.
ABOUT THIS WINE
Les Maillons is a 6-hectare vineyard of which Collin owns 2.5 hectares in the village of Barbonne-Fayel in the Côte de Sézanne, just south of the Coteaux du Morin. The eastern-exposed Pinot Noir vines were planted in 1971 in heavy clay soils with chalky limestone sub-soils. As for all Collin Champagnes, the fruit is hand-harvested and pressed; the juice is lightly sulfured and settled overnight, then fermented spontaneously and slowly with natural yeasts in oak; the wine is bottled without fining, filtering or sulfuring and aged sur lattes for an extended period, 3 years in the case of Les Maillons. Unusually, Collin's rosé is made with a maceration of the juice with the skins, as opposed to the adding of red wine to a white base. The wine is disgorged and finished with a small dosage of 1-2 grams/liter at most.

ABOUT THIS PRODUCER

Based in the village of Congy, Olivier Collin comes from a family of vinegrowers who have been active in the Coteaux du Petit Morin since 1812. Georges Collin was the first Récoltant Manipulant in Congy; he started in 1930 and received awards from the French Ministry of Agriculture. Following the second world war, René Collin (Olivier's grandfather) grew the estate to 18 hectares of vines, began producing his own Champagne blends and was an esteemed member of the "Club des Viticulteurs Champenois" until the 1980's (it now goes by "Club Trésors de Champagne"). But in 1987, Olivier's father sold the company and began renting the entirety of the family's vines and cellar to a big Champagne brand, effectively ending independent production.

In 2003, Olivier successfully recovered 4.5 hectares that had been rented out for a generation. Since then, Olivier has recovered much of the land and is now making beautiful singular Champagne that is sought after all over the world.