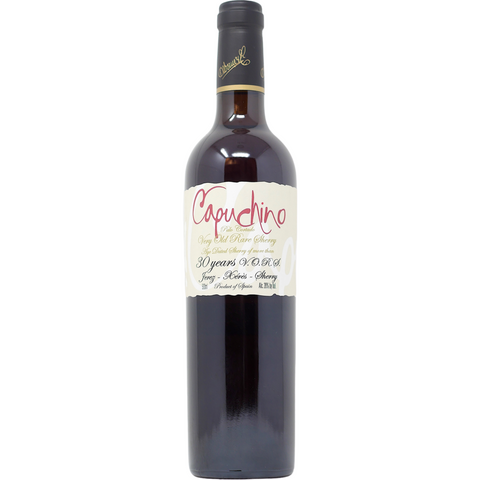 Osborne Capuchino Palo Cortado
A nose of incense, woods, quince, a touch spirity and lots of hazelnuts, while the medium- to full-bodied palate is quite bitter, intense and powerful with the roundness of an Oloroso, persistent and full, with good acidity and notes of coffee.
The Capuchino Palo Cortado is a rare wine coming from one of the oldest existing soleras in the Jerez district dating back to 1790. The name Capuchino refers to the Capuchin monks who live in Jerez. While sold as a VORS (guaranteed minimum age of 30 years) it is at least twice that age. The entire solera is compromised of 25 barrels, and only 1.5% of the wine is drawn from each barrel annually. After the dismantling of the Allied Domecq empire in 2005 by Pernod Ricard, the VORS soleras were bought by Osborne and moved to El Puerto de Santa Maria, where they (along with other amazing soleras) now form part of the Osborne bodega and museum. Despite their lack of real profitability, these old wines have been lovingly looked after by oenologist Ignacio Lozano. The wines could never be sold for their real value, but help give prestige to the bodega and to the sherry category in general.