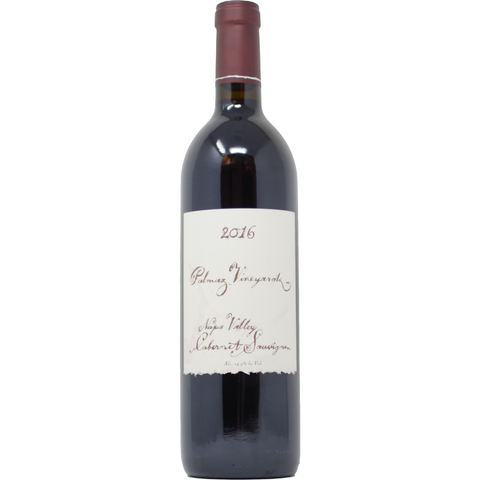 2016 Palmaz Vineyards Cabernet Sauvignon, Napa Valley, California, USA
Smooth and refreshing at first sip, followed by gentle eruptions of mulberry and blackberry. Like molten lava cake, dark melted chocolate oozes over every taste bud for a finish that begs for another sip.
ABOUT THIS WINE

The team refers to this vintage as a return to "normalcy". Similar to the 2012 vintage, 2016 spring and summer were textbook with ample growing season length. A warm 2nd and 3rd week in September contributed to rising brix. After modest temperatures in August, the team was wise not to overleaf, a Palmaz property tactic that was worked in previous vintages. By the time harvest was on the horizon so were minor threats of rain. On Oct 2nd, a minor 30 minute isolated rain event occurred that did not delay harvest plans. The wine making team beamed about the quality and were pleased with the significant yields. This will go down as a great vintage for Napa Valley.

ABOUT THIS PRODUCER

In 1852, young Henry Hagen arrived on the West Coast in the throes of continental expansion and the Gold Rush. He initially settled in San Francisco but in 1881 turned his attention slightly north, purchasing a parcel of land in the southern end of nearby Napa Valley, against the forested ridges of Mount George. There he found Cedar Knoll Vineyard and Winery, where the Palmaz Vineyards and family reside today, just off what's now known as Hagen Road.

Hagen became one of the true pioneers of the Napa Valley: His noteworthy wines are featured at the San Francisco Opera House and served to some of the finest people of the city, according to contemporary newspaper accounts. Hagen even won a silver medal for his brandy at L'Exposition Universelle de Paris 1889 World's Fair.

Hagen died in 1895, leaving behind 450 acres of "fine vineland." While Cedar Knoll is lauded for its wines (and spirits), Hagen's descendants didn't share his passion. With the arrival of Prohibition in 1919, the property's winemaking endeavors were abandoned until the Palmaz family purchased the property in the late 1990s and set about restoring its former glory.

Julio and Amalia Palmaz have always believed that if given the proper attention and care, their land can produce excellent wine for generations. Along with their children, Florencia and Christian Gastón (and Christian's wife, Jessica Louise), they set about creating a winery that leverages tradition and technology in the service of crafting great vintages. The result is a 600-acre estate with 64 acres of vineyards that produce truly modern vintages, thanks to the technology harnessed in support of the art of winemaking.