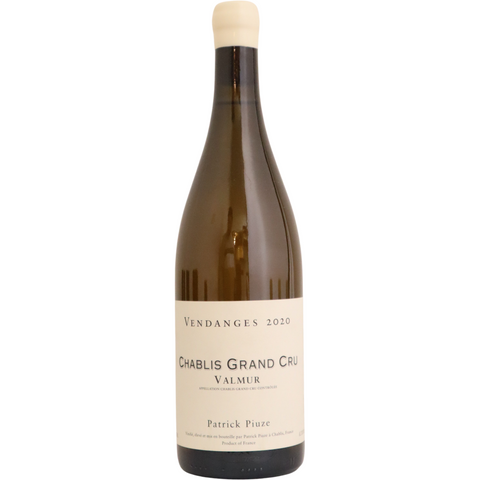 2020 Patrick Piuze Chablis Grand Cru "Valmur", Burgundy, France
Scents of crisp green apple, lime zest, mandarin orange, white flowers, freshly baked bread, nutmeg and beeswax. Full-bodied, satiny and incisive, it's deep and concentrated, with racy acids, chalky extract and a long, penetrating finish.
ABOUT THIS WINE
Located on the right bank of the Serein, with southern exposure. In the name of this vineyard, "val" refers to "valley" and "mur" is "ripe" in French; in this Valley of Ripeness parcel, the grapes reach full maturity and give a wine with a lot of roundness and rich fruit.
ABOUT THIS PRODUCER
In only a short time, Patrick Piuze has gone from managing a wine bar in his native Québec to becoming one of Chablis' most prominent rising stars. In 2008, after working for Olivier Leflaive, Verget and Domaine Jean-Marc Brocard, Patrick started his own micro-négoce. Sourcing 20 hectares of old-vine fruit from respected growers throughout Chablis, he crafts over 20 cuvees, including grand cru, premier cru, single-village wines, a Petit Chablis sourced from a maximum of two parcels adjacent to grand cru vineyards, an Aligoté from Saint Bris, and a méthode traditionnelle sparkling wine from the Tonnerrois. He is one of the rare producers to identify the nuances from village to village within the general AOC Chablis and even distinguishes between microclimates in his two cuvees of grand cru Bougros.
Patrick's belief in long, natural fermentations allows him to create powerful yet graceful wines that, even in less ripe vintages, show a soft, penetrating texture. Lively, nervy, and pure, they also exhibit soft creamy textures, layered complexity, and the contagious vitality of its maker.