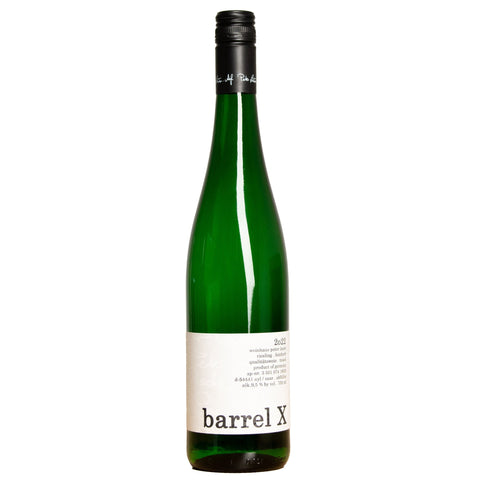 2022 Peter Lauer "Barrel X" Riesling, Mosel, Germany
'Barrel X' is Lauer's entry-level, off-dry cuvée, showing complex notes of citrus, green apple, and salt. The wine's residual sugar is balanced by lightning-like acidity and strong backbone.
ABOUT THIS WINE:
Whole-cluster grapes are pressed directly in a pneumatic press, with the juice occasionally pumped back in for a short maceration. All fermentations take place with native yeasts and no fining agents or any other elements or products are ever added. Wines mature in a mixture of stainless steel, fiberglass and traditional Fuder for 1-6 months on the lees, depending on the cuvee. No fining agents are used. The wines are lightly filtered with diatomaceous earth; all wines are vegan.
ABOUT THIS PRODUCER:
For purists, there is nothing like the Saar. The magic here is intensity without weight, grandiosity without size: rocks and acidity. Lauer is currently one of greatest estates in this sacred place. The style here is 180 degrees removed from his famous neighbors Egon Müller and Zilliken. The focus here is on dry and dry-tasting Riesling. While the source of most of the bottlings is the famed Ayler Kupp, Florian uses the pre-1971 vineyard names – Neuenberg, Stirn, Unterstenberg. Rigorous vineyard work, indigenous yeasts and spontaneous fermentations mean the wines find their own balance. The results are undeniable: depth, texture, dimension, clarity, cut. For Lauer, the large site of the Ayler Kupp has many different terroirs rather than a single, defining character. Soil composition, exposition, altitude, and microclimate in combination with vine age all make contributions to the individual character of each wine.