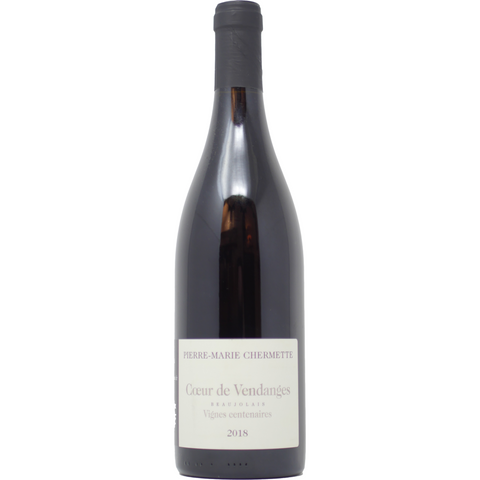 2018 Pierre-Marie Chermette Coeur de Vendanges, Vignes Centenaire, Beaujolais, France
Sustainably grown Gamay from one of the hidden gems of Beaujolais. The 2018 has notes of roses, cassis, and dark berries. The high acidity and touch of tannins allow this wine to be enjoyed now or over the next few years.
Pierre Chermette's yields are so low and the grapes so naturally ripe that he does not chaptalize. He uses only indigenous yeasts (no "banana yeast" culture). Then a traditional, longer fermentation, aging in Oak foudre and bottling with no filtration, and without adding any sulfites, in most vintages. It is as natural a Beaujolais as one could have had in a café in Lyon in the 1940's. As for quality, Domaine du Vissoux is the Beaujolais at Willi's Wine Bar in Paris, Cave la Grande, and just about every top Bar-A-Vin in Paris and Lyon. Combining tradition and modernity, Martine and Pierre-Marie Chermette are fully committed to making flawless, authentic terroir wines; white, rosé and red Beaujolais, Brouilly, Fleurie, Moulin a Vent, Cremant de Bourgogne and Créme de Cassis made using their own blackcurrants.