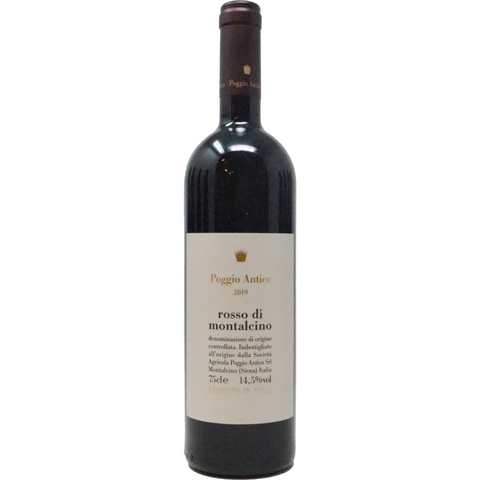 2021 Poggio Antico Rosso di Montalcino, Tuscany, Italy
Coming from 100% Brunello sites the nose is a bouquet of spices, ripe red cherries and subtle leather notes. The palate is full, firm and fleshy, the structure very polished and balanced. Very concentrated with a finish that really stretches out.
ABOUT THIS WINE
After manuel harvest and grape sorting the must soaks with the skins for around 10 days in stainless steel. The wine is then moved to tonneaux (300-750L French oak barrels) where is it aged for 16 months before bottling. This can be cellared until 2030+.
ABOUT THIS PRODUCER

Poggio Antico is one of Montalcino's most elevated estates, with vineyards averaging 1476 feet above sea level, southwest of the famed medieval citadel. Both the unique location and altitude privilege the wines of Poggio Antico, which benefit from the perfect exposure and enjoy favorable overnight drops in temperature, ideal conditions that increase finesse and intense bouquet.
Poggio Antico was founded in 1976 and consist of 50 clay, calcareous acres of Brunello di Montalcino. The estate has seen a phenomenal growth, going from 50 to the present 80 acres under vine, developing two parallel Brunello worlds – the more traditional, larger-barrel Brunello, aged longer in Slavonian oak and the modern, finesse-driven Altero, aged in tonneaux (This is a thin barrel or with a capacity of 300-750 liters) of French oak; securing a stellar position in the global market and extending and upgrading the facility to ultrahigh-tech standards.
In 2017 Poggio Antico changed hands and was purchased by Atlas Invest, and it is now directed by the new General Manager Federico Trost. Poggio Antico recently lead a soil survey to approach the plot-by-plot management which started with the 2018 vintage by identifying, and consequently harvesting and fermenting separately, the micro terroirs inside each vineyard. All the estate is currently under organic conversion and a renovation of the cellar and of the hospitality center are part of the new plans.