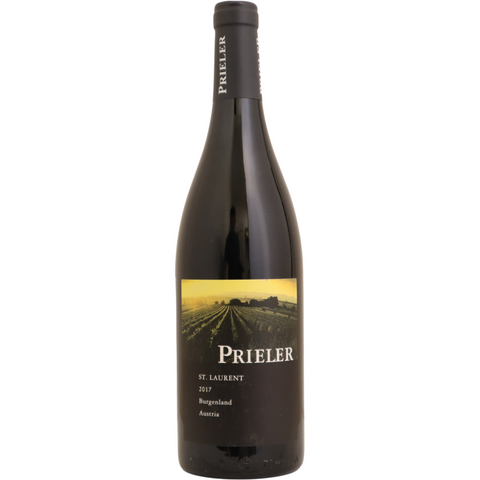 2017 Prieler St Laurent, Burgenland, Austria
Velvety and smooth are certainly two words that come to mind with this wine. The tannins are apparent, but the nature of the varietal lends itself to the smooth and velvety texture rather than gritty tannins. Ripe fruit flavors and slightly sweet.
ABOUT THIS WINE
The fruit is grown in loam soils in the village of Schützen am Gebirge in Burgenland. Temperature-controlled fermentation in stainless steel, maturation in large wooden cask.

ABOUT THIS PRODUCER

The Prieler estate, in Schützen on the western side of the Lake Neusiedl, is a historic old farm, once dedicated to many types of agriculture but now specializing in grape growing. Two generations of the Prieler family now run the estate: Engelbert and Irmgard, who in 1972 focused the estate on quality production of several grape varieties, mainly Blaufränkisch and Burgundian varieties. Their son, Georg, now heads the estate and continues working to best express the unique terroir of the Leithagebirge.
Prieler's 20 hectares are currently cultivated in vineyards between the Leithagebirge, the last outpost of the eastern Alps that protect the vines from the western winds, and the Lake Neusiedl, which tempers the hot climate of the Pannonian plain. Basking in 2000 hours of sunshine annually, North Burgenland is the sunniest region in all of central Europe, with far below average rainfall. Soils vary dramatically in this area around the Schützen Stein. Seeberg and Sinner vineyards contain fossil bearing limestone and are best suited, to Prieler's outstanding Chardonnay and Pinot Blanc. The iron-rich, brown loam of the Johanneshöhe on the slopes of the Leithaberg produces delicious Blaufränkisch, while the Goldberg vineyard, filled with 'glimmerschiefer', or mica-schist, flecked with gold, produces one of the most important, world-class wines in all of Austria.
Prieler's focus on Blaufränkisch as well as Burgundian varieties such as chardonnay, pinot blanc, and pinot noir, which have a long history of cultivation in this part of Burgenland. The area around Vienna was cultivated by Cistercian and Franciscan monks, who founded monasteries along the Danube and brought these varieties from France and Germany. Silvia Prieler, with a PhD in biochemistry, brings international experience to the cellar including an internship at Domaine Dujac in Burgundy. In the vineyards, the Prielers prune rigorously, plant cover crops, and pay meticulous attention to canopy management as their region receives so much sunlight. They make multiple, careful selections during harvest in order to control alcohol while still achieving physiological ripeness.