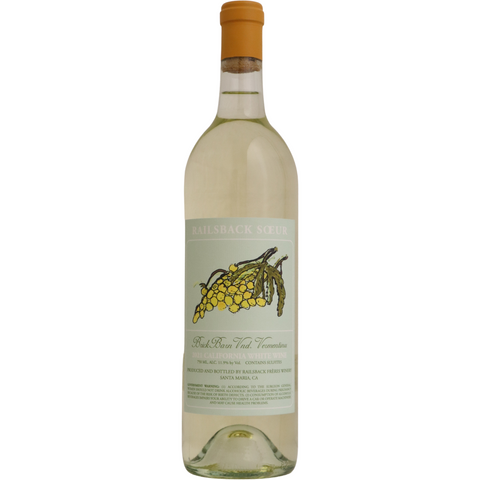 2021 Railsback Frères Vermentinu "Brickbarn Vineyard", Santa Ynez, California, USA
Perfumed white blossoms and stone fruits. The fermentation and aging in neutral french oak barrels highlights the freshness and mouth-watering qualities of the marine air, reminiscent of those found in the Vermentinu from Corsica's "Ile de Beauté." 
There are 7 units left in stock.
ABOUT THIS WINE
Brick Barn vineyard is on pure sandy soil, which comes from being so close to the Santa Ynez River. Sediments deposited by Zaca Creek and the Santa Ynez River consist of up to 200 feet of unconsolidated gravel, sand, and clay, which are underlain by less permeable Upper Pliocene, Middle Miocene, and Lower Miocene marine deposits. Coarse in texture, this sand allows the roots of the Vermentinu to penetrate deeply to find waterways and nutrients.
ABOUT THIS PRODUCER
Railsback Frères began as a rosé project in 2015 by brothers Lyle and Eric Railsback, who call their rosé "Les Rascasses" (scorpion fish in French) as an homage to Lulu Peyraud. Lulu was the proprietress of Domaine Tempier in Bandol, maker of their favorite rosé in Provence. Lyle did National Sales for French importer Kermit Lynch for twelve years before leaving to focus on this Santa Ynez project. His brother Eric started Lieu Dit wines in Santa Barbara, inspired by wines of the Loire valley, and owns Verve Wine in NYC, Chicago, and San Francisco.
"Eric approached me when he found access to some Mourvèdre, Carignan and Cinsault in Santa Ynez," says Lyle Railsback, "and we produced our first rosé with the 'original recipe' of Bandol: direct-to-press, vinified and aged in old wood, and with malolactic completed. Two years later we partnered with Presqu'ile Winery in Santa Maria, where we now make the wines using only wild, native yeast fermentation. In addition to our dry rosé, we also now make small lots of other Southern French grape varieties, including Vermentino, Carbonic Carignan (à la Maxime Magnon in Corbières), an inky red Mourvèdre, and Syrah from Bien Nacido that's made entirely without the use of SO2."