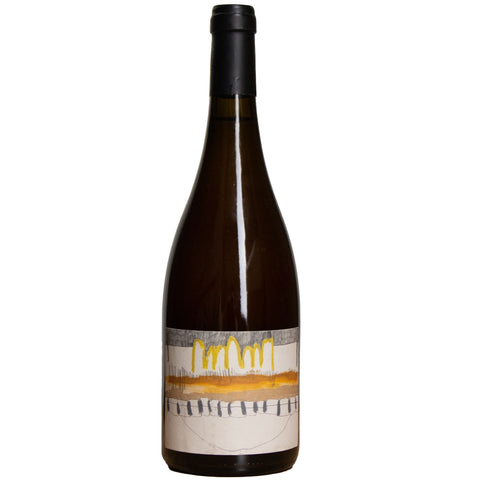 2019 Rasa Wines "Dusty Miller Maceration White"", Barossa Valley, Australia
Golden in color and highly aromatic due to the Muscat with lifted plum, orange blossom and zest with lingering notes of almond, orange citrus, ginger. Well balanced and long. Best served a bit cooler than room temp and loves being in a decanter.
ABOUT THIS WINE
Hand-picked and destemmed, native yeast ferment on skins in stainless steel. Aging in 10+ year old French oak hogsheads (300 liter) for 15 months with one racking away from gross lees via gravity. Basket pressed oxidatively over a 6 hours. Post ferment maceration for semillon and muscat was 7 and 42 days respectively. No maceration for Riesling, but developed flor in barrel. Full malolactic fermentation for everything, sulfur addition as the one and only add.
ABOUT THIS PRODUCER

Andy Cummins and Emma Welling met in Bowral, in the southern highlands of New South Wales, where they're both from. They both had a passion for food and wine, and packed up their lives to move to the Barossa Valley. Emma got her foot in the door in the hospitality industry there, and Andy secured a harvest job at Rockford (one of the iconic producers of the Barossa).
Andy parlayed his experience at Rockford into a job with another Barossa legend: the Henschke family, in the Eden Valley, just east of Barossa Valley (and within the larger Barossa zone), where he remains a part of the winemaking team to this day.
While holding down other jobs, Andy and Emma pursued their dream of starting their own winery, making their first vintage in 2015. They lease small parcels of land in the Barossa Valley, leveraging their connections in the region to lay their hands on the best fruit. The focus is on old vines and historic grapes of the Barossa (ones that haven't gotten the spotlight historically, ahem, shiraz): mourvèdre, cinsault, grenache, muscat, semillon, and riesling. Andy's previous life as a landscaper in Bowral set up his innate viticultural instincts, and the couple has been as hands-on as possible with plots they tend.
Rasa is a Sanskrit term that "literally means juice, essence or taste, the agreeable quality of something, especially the emotional or aesthetic impression of a work of art". These wines are getting to the essence of Barossa, but in a very different way than has traditionally been done. "Our wines don't fit inside a conventional framework. They don't fit beside all the others in a massed regional comparison," Andy has said, "but there's a growing, loyal audience for these types of wines."