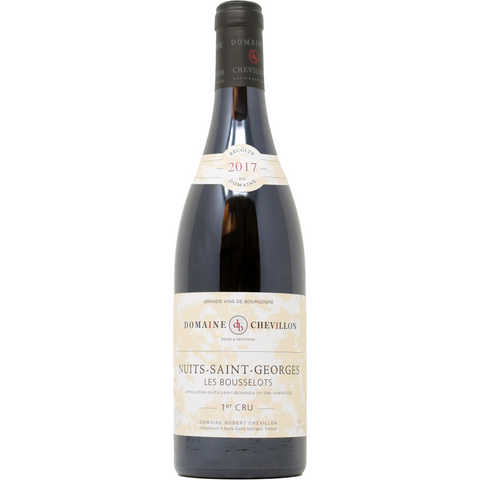 2020 Robert Chevillon Nuits-St-Georges 1er Cru "Les Bousselots" - Burgundy, France
In its youth, it is fairly austere, but over time the aromas diversify, evolving towards fresh leather and animal notes with fine balsamic and licorice intertwined with black cherries, roses, red currant, and a touch of vanilla that are all balanced are well-defined.
ABOUT THIS WINE
Originally, Les Bousselots was an uneven parcel, a "terrain bosselé", meaning "bumpy terrain". It has a south-eastern sun exposure at255-280 meters in altitude, with a grade ranging from 10-15%. Aged in approximately 30% new oak depending on the vintage for about 20 months.
ABOUT THIS PRODUCER

The Domaine was started by Symphonien Chevillon in the late 19th century with a small plot (3/4 acres) which he farmed after finishing his daily work for other vignerons. Symphonien's son took over the Domaine upon his father's death and began to acquire small parcels of Nuits St. Georges premier cru. The Domaine is now 31 acres and is managed by Robert Chevillon, great great nephew of Symphonien.
Domaine Chevillon is often said to be the greatest Domaine in Nuits Saint Georges. With a focused core of Pinot fruit, the wines are always balanced, never over-oaked or over-chapitalized. Chevillon's Burgundies cellar well, but in their youth they show elegant berry and earth perfume, and are best paired with game dishes, roasted birds such as quail and duck, and strong aromatic cheeses.