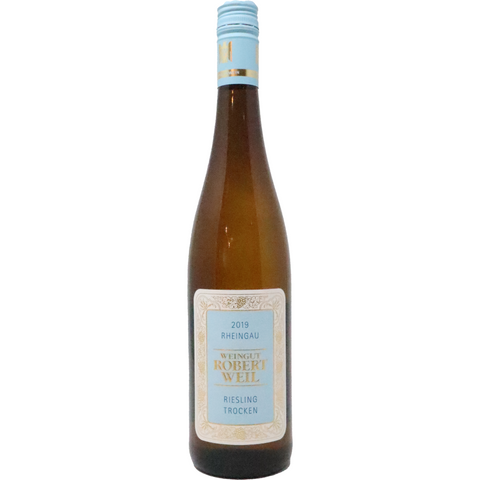 2019 Robert Weil Riesling Trocken, Rheingau, Germany
The estate-grown Riesling Tradition is a classic rendition of the traditional off-dry style that made the Rheingau famous. A versatile partner at the dinner table, it has an alluring and delicate touch of sweetness paired with tantalizing fruit aromas.
ABOUT THIS WINE
The vineyards are cultivated in an environmentally friendly manner: organic fertilizer is used as needed; green cover is planted in alternating rows to optimize the humus content of the soil; herbicides are never used, and other protective measures are used only sparingly and with respect for habitat.
Grapes are harvested by hand, with an extremely critical selection that involves up to 17 rounds through the vineyards. The goal of this meticulous attention is to reap the finest fruit possible for wines in every Prädikat level.

Weingut Robert Weil puts a strong priority on a gentle transport of the berry clusters: special vibrating grape trailers and a dogged reliance on old-fashioned gravity are used in conveying the grapes to the wine presses. After gentle pressing, the must is gravity-fed into reception tanks. Natural sedimentation is then used to fine the must.

Stainless steel is used for the lighter, fruitier and naturally sweet wines, lending them greater finesse and enabling them to develop optimal elegance.
ABOUT THIS PRODUCER
Founded in 1875, Weingut Robert Weil is considered to be one of the Rheingau's younger wine estates. It is located in the heart of Kiedrich, a village first documented in the year 950. Kiedrich Turmberg and Kiedrich Gräfenberg, the estate's top vineyards, are among the finest sites in the Rheingau.
The estate cultivates 90 hectares (222 acres) of vineyards, of which 100 percent are planted with Riesling. Today, Wilhelm Weil, the great-grandson of the estate's founder, carries on the tradition of uncompromising, quality-oriented vineyard and cellar practices – a tradition that has been the hallmark of the winery for four generations.