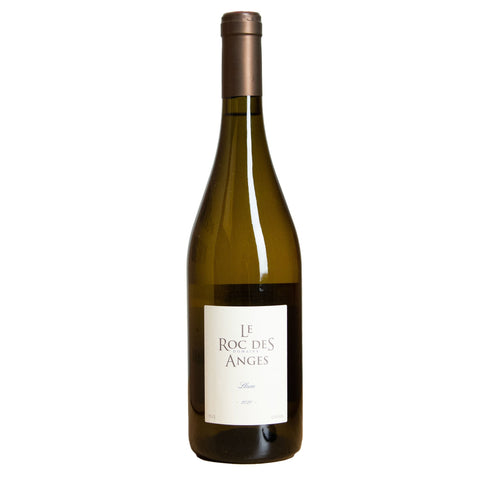 2020 Le Roc des Anges Côtes Catalanes Blanc "Llum", Languedoc-Roussillon, France
Complex and well-balanced produced from Mediterranean white grapes, vinified and age in oak barrels and cement vats. The nose is rich, fruity and floral, with balsamic and mineral hints. On the palate it's intense, fresh and savory, very well-balanced.
ABOUT THIS WINE

Whole-cluster pressing. Settling without cooling. Ambient yeast fermentation with no sulfur additions in barrels and foudres (228, 500, and 1500L) that are mostly used. Despite very low pH's, Malos tend to happen except on L'Oca. No fining. Light filtration. Total sulfur at bottling 40 to 60 ppm, though it is not all added because the yeasts in the terroir produce a substantial amount on their own during fermentation.

ABOUT THIS PRODUCER
Marjorie was born in Grenoble and grew up in the Northern Rhône. Stéphane was born in Normandy. The couple met at the agronomy school in Montpellier. Marjorie apprenticed at Domaine Gauby; Stephane at Cuilleron and Les Vins de Vienne, after which he worked at Mas Amiel. They founded Roc des Anges in 2001. The couple named their domaine Roc des Anges after a large white outcropping of quartz in a vineyard—Roc for rock, and Anges for angels.

"We came to biodynamics by tasting the wine of others," says Marjorie. "We wanted to make wines with the same energy. It happened when we started to let go of our Cartesian side, our agronomy training. Certain wines moved us. We couldn't really describe what touched us, but the common thread was that they were made by biodynamic domaines."
In 2011, the couple took the entire domaine, now 30 hectares, biodynamic.