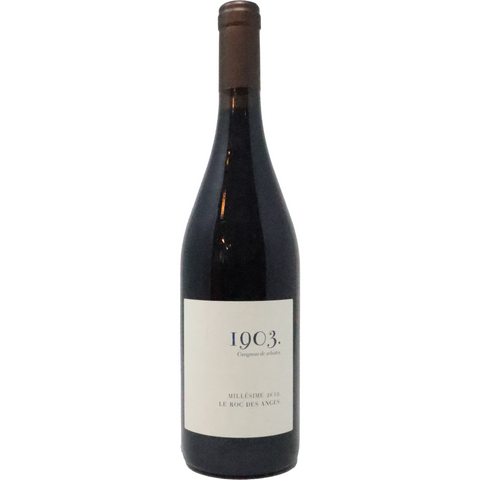 2019 Le Roc des Anges Côtes Catalanes Rouge "1903" , Languedoc-Roussillon, France
The 1903 Carignan comes from ancient vines that are true to their roots. With frighteningly low yields, the result is a very profound, honest wine. There is something meditative about them, radiating tranquillity, finesse, and elegance.
ABOUT THIS WINE

Three parcels all planted in 1903 plus some Las Trabasseres planted in 1913. All vineyards sites contain schists soils.

Starting with the 2018 vintage, Marjorie and Stéphane decided to only bottle a little amount of Las Trabasseres in select vintages. What is not bottled on its own is now blended into 1903. Las Trabasseres is a north-facing terroir, planted in 1913. It produces an intensily mineral and fresh wine that brings a lof of lift to 1903.
Mostly destemmed. Ambient yeast fermentation with pieds de cuve in closed concrete tanks for 7 days, then pressed and racked back to tank to finish fermentation. No temperature control. No punching down or pump overs. Aged in tank. No fining, light filtration.

ABOUT THIS PRODUCER


Marjorie was born in Grenoble and grew up in the Northern Rhône. Stéphane was born in Normandy. The couple met at the agronomy school in Montpellier. Marjorie apprenticed at Domaine Gauby; Stephane at Cuilleron and Les Vins de Vienne, after which he worked at Mas Amiel. They founded Roc des Anges in 2001. The couple named their domaine Roc des Anges after a large white outcropping of quartz in a vineyard—Roc for rock, and Anges for angels.
"We came to biodynamics by tasting the wine of others," says Marjorie. "We wanted to make wines with the same energy. It happened when we started to let go of our Cartesian side, our agronomy training. Certain wines moved us. We couldn't really describe what touched us, but the common thread was that they were made by biodynamic domaines."
In 2011, the couple took the entire domaine, now 30 hectares, biodynamic.