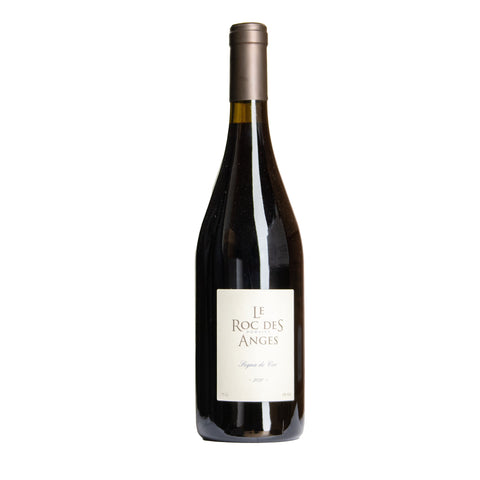 2020 Le Roc des Anges Côtes Catalanes Rouge "Segna de Cor", Languedoc-Roussillon, France
Delicate, smooth, silky with hints of smokiness. This is lively and fresh on the palate, gentle flavours of red grape and berry, dried spices and roasted herbs. From the rock of the angels springs the blood (Segna) of the heart (Cor)!
ABOUT THIS WINE
40% Grenache Noir, 30% Carignan, 30% Syrah. The vines are 30 to 40 years old on average from a blend of about 20 small parcels on schists. Mostly destemmed. Ambient yeast fermentation with pieds de cuve in closed concrete tanks for 7 days, then pressed and racked back to tank to finish fermentation. No temperature control. No punching down or pump overs. Aged in tank for approximately 10 months. No fining, light filtration. Total sulfur at bottling 30 to 50ppm. Held for several months in bottle before release.

ABOUT PRODUCER

Marjorie was born in Grenoble and grew up in the Northern Rhône. Stéphane was born in Normandy. The couple met at the agronomy school in Montpellier. Marjorie apprenticed at Domaine Gauby; Stephane at Cuilleron and Les Vins de Vienne, after which he worked at Mas Amiel. They founded Roc des Anges in 2001.