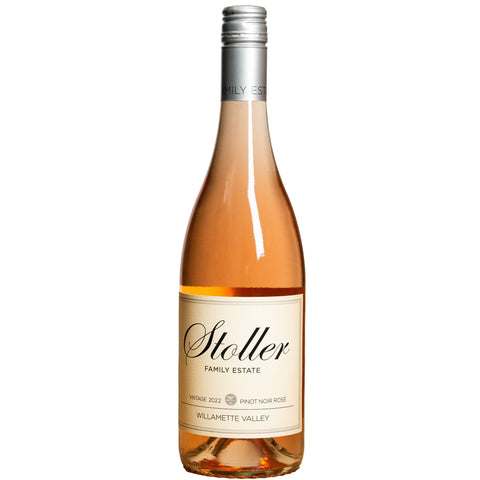 2022 Stoller Pinot Noir Rosé, Oregon, USA
Aromas of pomelo, strawberry and white nectarine, followed by flirtatious notes of wet stone and uncut grass. The palate is a taut jolt of citrus and dried flowers illuminated by an electric, juicy acidity and a lingering finish of white tea and lime pith.
ABOUT THIS WINE

The 2021 growing season was warmer than average in the Willamette Valley, producing beautifully ripe fruit with vibrant flavors. A dry spring led to lingering rain showers during bloom, which reduced the yield in some blocks. Then, an abnormal heatwave spread across the valley, with temperatures reaching as high as 115 degrees Fahrenheit. Fortunately, the fruit prospered as high temperatures occurred between bloom and véraison when berries were hard and less sensitive to damage. Temperatures tapered off prior to harvest, with warm days and cool nights, which allowed the fruit to ripen at an even and slower pace. Quick yet seemingly smooth, harvest started on August 21 with little to no breaks until we finished on September 26. The resulting wines are balanced with focused flavors, stunning fruit, gorgeous vibrancy, and incredible aging potential.
Rosé has been a cornerstone of our production for more than a decade. Comprised of various clones of Pinot Noir, we intentionally craft our Rosé to be balanced and bright. Whole cluster pressed and fermented in stainless steel.
ABOUT THIS PRODUCER
The family established the property in 1943 and the vineyard 50 years later. Over the last 25 years, we have patiently transformed the 400-acre property into the largest contiguous vineyard in Oregon's Dundee Hills. We control every step of the wine-growing and winemaking process, from pruning to bottling and everything in between. The result is award-winning wines that are balanced, complex, and consistently exceptional.
Much has changed from the original Stoller family farm, but two things remain constant: our pioneering spirit and commitment to our farm. We continuously seek new ways to refine and protect our legacy, so that it can thrive for generations to come. Our winery was the first in the world to receive LEED Gold certification, attesting that our winery is sustainably built and environmentally friendly.