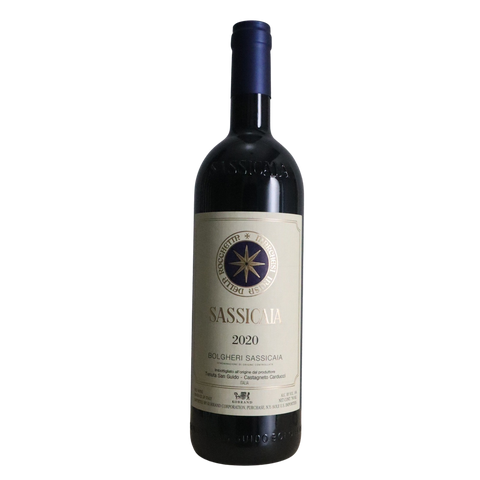 2020 Tenuta San Guido "Sassicaia" Bolgheri DOC, Tuscany, Italy
Intense, concentrated and deep ruby-colored, this wine offers elegant aromas of red fruit. In the mouth it is rich and dense, with sweet, balanced tannins. The wine has a long finish with a depth and structure that ensure its extraordinary longevity.
There are 10 units left in stock.
ABOUT THIS WINE

Selection of grapes through a sorting table to eliminate impurities and any presence of camber.Soft pressing and destemming of grapes in order not to break the skins of the berries. Subsequent spontaneous alcoholic fermentation in stainless steel vats at a controlled temperature of around 28 ° - 30 ° C (without the addition of external yeasts). The macerations lasted about 11-12 days for Cabernet Franc and 13-14 for Cabernet Sauvignon. Frequent pump-overs out door and frequent délestages during alcoholic fermentation have favored elegant musts with good structure and excellent aromatic component. The spontaneous malolactic fermentation was then carried out in stainless steel tanks and was completed by the end of November.

At the end of malolactic fermentation, the wine was transferred to French oak barriques (one third new wood and the rest, first and second passage) where it rested for 24 months of aging period. During this time, the various masses have been kept separated according to the vineyard of origin and monitored. The blending of the selected mass one was made at the end of December, one month and a half prior to the preparation for bottling and subsequent refinement phase in the glass before marketing.

ABOUT THIS PRODUCER

Hailed as the standard-bearer of Italian enology, the historic Tenuta San Guido estate is known for crafting "Sassicaia", the world's first Super Tuscan and an important contribution to Italy's evolving reputation as a fine-wine producing nation in the mid-20th century. Sassicaia means "the place of many stones," and refers to the region's gravel soil. The original vineyards have a southwest exposure with extensive sun and maritime breezes that create robust vegetation. Grapes are handpicked, destemmed and crushed before fermenting with natural yeasts in temperature-controlled stainless steel tanks. The wine is aged in French oak barriques, then refined in bottle before release. Sassicaia's success prompted the Italian government to grant the wine its own appellation, Bolgheri Sassicaia DOC, beginning with the 1994 vintage.