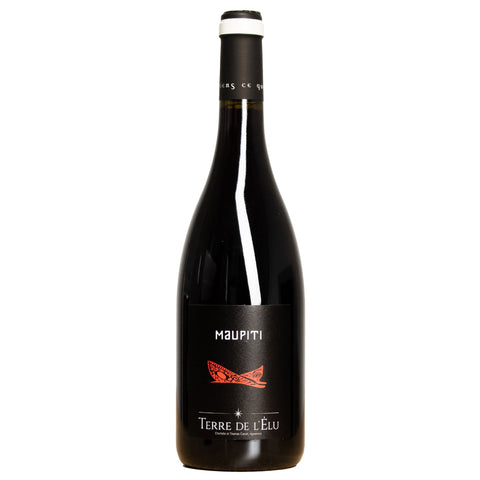 2021 Terre de l'Elu "Maupiti", Val De Loire IGP, Loire Valley, France
The nose is subtle and greedy displaying a real bounty of infused red fruits, with slightly spicy notes. Full of finesse, suppleness, and freshness. The finish is supple and generous. This is for all light red lovers, perfect for afternoon sipping!
ABOUT THIS WINE
Vivacious but not vacuous is probably the best way to describe Gamay grown in the Loire Valley. It certainly can have a nervy tang but when it is done right it can make for a joyous evening if a somewhat less than celebratory morning-after. Thomas blends some Cabernet Franc into his Gamay to make Maupiti, a more seductive and seriously fun Loire Valley red than we've seen in a while. Three glous on the glou-glou meter.

Hand harvested, whole cluster, natural yeast fermentation in French oak vats, 15 day maceration. 8-12 months in conical French oak vats.
ABOUT THIS PRODUCER
Terre de l'Elu was originally established by two brothers in the 1950s who sold their grapes to local negociants, and in 2008, they retired selling their estate to Thomas and Charlotte Carsin. Thomas, an agricultural engineer by training, became enamored with viticulture during his studies. Once his formal education was complete, he traveled to Sonoma, Champagne, and Provence, supporting himself as a viticultural consultant while learning enology by working in various cellars. When Charlotte and Thomas found these vineyards for sale, it was an easy, if life-changing, decision to make.
Thomas and Charlotte farm Terre de l'Elu organically and biodynamically – certified by ECOCERT and DEMETER. After years of experience advising others, he has put his principles to work at his own estate: native cover crops are encouraged, the soil is tilled, and no synthetic products are employed. These efforts have brought new life to the soils, allowing him to preserve many of the property's old vines. New plantings have been made using selection massale to preserve the diversity of his sites. About half of his vineyards are planted with equal proportions of Chenin Blanc and Cabernet Franc – the two most common varieties grown in the Anjou with smaller Gamay plantings, Grolleau Noir & Gris, Sauvignon Blanc, Chardonnay, and Pineau d'Aunis. Each plot and variety is harvested by hand and brought to the cellar, where the whites are pressed and allowed a short period to settle. Most of the red wines are whole cluster fermentations. Only natural yeasts are employed, macerations are long, and the wines age in tank, barrel, or amphorae. Sulfur usage is minimal and often added just before bottling.
In 2018, Thomas and Charlotte made the difficult decision to withdraw their estate, Clos de l'Elu, as it was formerly named, from the AOP of Anjou. After years of having wines being rejected by the appellation and the associated costs and delays this bureaucratic nightmare entailed, they will all now be labeled Vin de France. Of course, there's a law that forbids the use of "Clos" in naming wines at this level, so they've changed their name to Terre de l'Elu. Over time as they release newer vintages, you will notice this on the labels but have no worries. The wines are from the same vineyards and made with greater care, vintage after vintage.